A trailer for late Megadeth drummer Nick Menza's autobiography titled Megalife has been released.
The book will be published on December 11 via Post Hill Press, and is described as: "The last words and testament of the late legendary Megadeth drummer Nick Menza – including his uncensored take on his tumultuous relationship with Megadeth leader Dave Mustaine."
Menza died of natural causes in May 2016 while he was performing with his band Ohm.
The publication has been co-written by J Marshall Craig, who previously reported that Menza was initially reluctant to write his memoir as he didn't think his life was exciting enough.
The new trailer features an audio clip of Menza who says: "The book has everything in it about Megadeth, of course, and it's basically about my life – my Megalife – and my upbringing. It's got a lot of funny stories and it's going to be a good read for people."
The clip then ends with the news report from the night he passed away.
Megalife: The Autobiography Of Nick Menza is now available for pre-order. Find details below.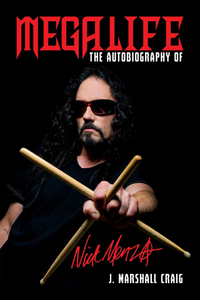 Megalife: The Autobiography Of Nick Menza
The long-awaited book charting the life and career of late Megadeth drummer Nick Menza promises to take an "unflinching look at life inside of one of metal's most successful bands."