A previously unreleased audio clip of former Megadeth members Nick Menza, Chris Poland and James LoMenzo playing Megadeth classic Wake Up Dead has appeared online.
Drummer Menza and bassist LoMenzo got together back in 2014 for an unnamed project and later brought in guitarist Poland. They began rehearsals later that year.
Now footage from those sessions has been released on the MenzaJams YouTube page – and it can be listened to below.
A statement reads: "Menza, Poland and LoMenzo's first jam session took place on November 1, 2014, at Menza's Disintegrator Studios in Studio City, California, where they cracked through some of the old Megadeth catalogue along with some of their favourite Metallica and Led Zeppelin songs.
"The trio then rehearsed a handful of times before disbanding later that year due to other musical commitments."
Menza went on to join Poland's band OHM, and was playing with the group when he died of natural causes in May 2016.
Menza's autobiography titled Megalife will be published on December 11 via Post Hill press and is described as: "The last words and testament of the late legendary Megadeth drummer Nick Menza – including his uncensored take on his tumultuous relationship with Megadeth leader Dave Mustaine."
Megalife: The Autobiography Of Nick Menza is now available for pre-order. Find details below.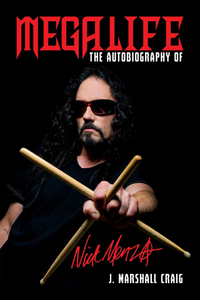 Megalife: The Autobiography Of Nick Menza
The long-awaited book charting the life and career of late Megadeth drummer Nick Menza promises to take an "unflinching look at life inside of one of metal's most successful bands."