Hot on the heels of releasing their brand new single, Inglorious have announced details of their third studio album.
Earlier this week, the UK outfit unleashed the thundering track Where Are You Now? (opens in new tab) and have wasted little time in delivering further details on the follow-up to last year's Inglorious II.
It was previously reported that the record will be titled Ride To Nowhere – and now it's been revealed that it'll be released on January 25 and feature a total of 11 songs.
Frontman Nathan James says: "This album is different in many ways. The songs came about very quickly. As with all our songs we start with a riff, and this time having new guitarist Drew Lowe added a new and heavier feel to a couple of songs.
"We wrote the basics mostly together all in one room on acoustic guitars and then I went away and crafted the stories I wanted to tell.
"For me this album is very personal. I am for the first time writing about a lot of my feelings, relationships and losses."
Lowe adds: "The album is the next step for the band in maturity. Being that it's my first, I wasn't sure what to expect, but as soon as we started we knew what type of record was coming.
"Hopefully the fans will love it as they follow us on the musical journey."
Ride To Nowhere is now available to pre-order. Find further details below.
The band will head out on a UK headline tour in January and February (opens in new tab).
Inglorious - Ride To Nowhere
1. Where Are You Now?
2. Freak Show
3. Never Alone
4. Tomorrow
5. Queen
6. Liar
7. Time To Go
8. I Don't Know
9. While She Sleeps
10. Ride To Nowhere
11. Glory Days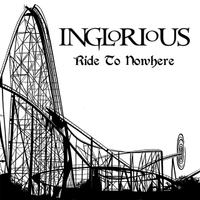 (opens in new tab)
Inglorious - Ride To Nowhere (opens in new tab)
Inglorious will release their third studio album titled Ride To Nowhere in January. It's their first record to feature guitarist Drew Lowe and features the lead single Where Are You Now?