Guru Guru - Rotate!
1. Rotate!
2. Digital Analog
3. Paramashivam
4. I Missed So Many Shootingstars
5. Anaconda
6. Rollo Riff
7. Nana
8. Magic Tree
9. Nombiri
10. I Am A Spaceboy
11. Gurugu
Guru Guru have released their new album Rotate! to mark their 50th anniversary.
Drummer Mani Neumeier co-founded the German outfit in 1968, with the band going on to release dozens of albums throughout their long career.
He's joined in the group by guitarist and saxophonist Roland Schaeffler and bassist Peter Kuhmstedt, who have both been with Guru Guru for more than 40 years.
A statement adds: "The passing of Hans Reffert, aged 69 in February 2016 was a severe blow, but with newly recruited guitar player Jan Lindqvist they overcame this tragedy and proved that they are not in the least tired of creating music.
"Those four Krautrockers are living legends and next to the Rolling Stones, among the longest-serving rock bands on this planet.
"Mani and Mick are in fact standing next to each other in the Tokyo House of Wax! Mani Neumeier and his Gurus are the epitome of a band that defies musical trends and fads and transcends limitations and genres even on their newest CD called Rotate!"
Buy Rotate! below.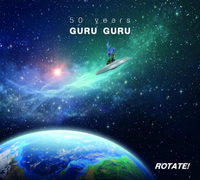 Guru Guru - Rotate!
German music legends Guru Guru return with their new album Rotate! to mark the band's 50th anniversary.