Evanescence have released a live video of their performance of Hi-Lo.
It's the latest track selected from the band's upcoming package Synthesis Live, which is set to arrive on October 12 on DVD, DVD/CD, Blu-ray and Blu-Ray/CD via Eagle Vision.
Synthesis Live was filmed and recorded in front of a sold out crowd at the Grand Theater at Foxwoods Casino on November 3, 2017, as the band toured in support of the Synthesis album.
It included orchestral reworkings of some of the band's best-loved work along with two new tracks, of which Hi-Lo was one.
Speaking about the album at the time, vocalist Amy Lee said: "We've gone through our entire catalogue of music and picked out the songs that are made to be heard in this way – and we're sewing them together from the ground up."
Evanescence previously shared a clip of My Immortal from Synthesis Live, which is now available for pre-order.
Evanescence Synthesis Live
1. Overture
2. Never Go Back
3. Lacrymosa
4. End Of The Dream
5. My Heart Is Broken
6. Lithium
7. Bring Me To Life
8. Unravelling (Interlude)
9. Imaginary
10. Secret Door
11. Hi-Lo
12. Lost In Paradise
13. Your Star
14. My Immortal
15. The In-between (Piano Solo)
16. Imperfection
17. Speak to Me
18. Good Enough
19. Swimming Home
20. Hi'Lo featuring Lindsey Stirling (Bonus video)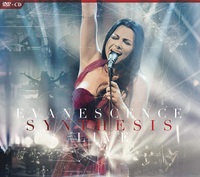 Evanescence - Synthesis Live
Evanescence document their landmark orchestral tour with Synthesis Live - recorded at the Grand Theater at Foxwoods Casino in 2017, featuring classics including My Immortal.