On November 16, a career-spanning Chris Cornell collection will be released.
Simply titled Chris Cornell, the compilation was brought together by Cornell's widow Vicky and artists who worked with the late Soundgarden, Audioslave and Temple Of The Dog vocalist.
It'll arrive on standard formats along with a limited-edition Deluxe Box Set and a Super Deluxe Box Set – both will include a total of 11 previously unreleased tracks.
The new trailer shows the contents being unboxed, complete with watercolour-effects and some of Cornell's best-loved and most recognisable songs, including Black Hole Sun, Bond theme You Know My Name and Like A Stone.
Vicky Cornell said: "Since Chris' sudden passing, I have put all my efforts and energy into sharing his music and legacy with his fans from all over the world.
"I felt we needed to create a special collection to represent all of him – the friend, husband and father, the risk taker and innovator, the poet and artist.
"His soaring vocals found their way into the hearts and souls of so many. His voice was his vision and his words were his peace. This album is for his fans."
The Super Deluxe Box Set will contain 4CD, DVD and 180g 7LP and feature 88 tracks – 64 songs plus an additional 24 videos, with the 11 previously unreleased audio tracks and two unheard songs on video
It'll come bundled with a 66-page hardcover photo book, three artist lithos, three photochromatic lithos which "are brought to life by holding under direct sunlight", a turntable mat, a vinyl cleaning cloth and a 36x48-inch poster.
The collection is now available to pre-order. Find details below.
A lyric video for Cornell's When Bad Does Good (opens in new tab) was released last month.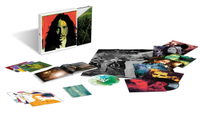 (opens in new tab)
Chris Cornell Box Set (opens in new tab)
This new collection brings together choice cuts from late Soundgarden, Audioslave and Temple Of The Dog frontman's career and features a total of 88 tracks. Not to be missed.
Chris Cornell: An Artist's Legacy
CD1
1. Hunted Down [Soundgarden]
2. Kingdom of Come [Soundgarden]
3. Flower [Soundgarden]
4. All Your Lies [Soundgarden]
5. Loud Love [Soundgarden]
6. Hands All Over [Soundgarden]
7. Say Hello 2 Heaven [Temple of the Dog]
8. Hunger Strike [Temple of the Dog]
9. Outshined [Soundgarden]
10. Rusty Cage [Soundgarden]
11. Seasons
12. Hey Baby (Land Of The New Rising Sun) [M.A.C.C.]
13. Black Hole Sun [Soundgarden]
14. Spoonman [Soundgarden]
15. Dusty [Soundgarden]
16. Burden In My Hand [Soundgarden]
CD2
1. Sunshower
2. Sweet Euphoria
3. Can't Change Me
4. Like A Stone [Audioslave]
5. Cochise [Audioslave]
6. Be Yourself [Audioslave]
7. Doesn't Remind Me [Audioslave]
8. Revelations [Audioslave]
9. Shape Of Things To Come [Audioslave]
10. You Know My Name
11. Billie Jean
12. Long Gone (Rock Version)
13. Scream
14. Part Of Me (Steve Aoki Remix)
15. Ave Maria (with Eleven)
CD3
1. Promise [Slash featuring Chris Cornell]
2. Whole Lotta Love [Santana featuring Chris Cornell]
3. Call Me A Dog (Live Acoustic)
4. Imagine (Live Acoustic)
5. I Am The Highway (Live Acoustic)
6. The Keeper
7. Been Away Too Long [Soundgarden]
8. Live To Rise [Soundgarden]
9. Lies [Gabin with Chris Cornell & Ace]
10. Misery Chain [with Joy Williams]
11. Storm [Soundgarden]
12. Nearly Forgot My Broken Heart
13. Only These Words
14. Our Time In The Universe
15. 'Til The Sun Comes Back Around
16. Stay With Me Baby
17. The Promise
18. When Bad Goes Good (Previously unreleased)
Advertisement
CD 4
1. Into The Void (Sealth) (Live at the Paramount) [Soundgarden]
2. Mind Riot (Live at the Paramount) [Soundgarden]
3. Nothing To Say (Live in Seattle) [Soundgarden]
4. Jesus Christ Pose (Live in Oakland) [Soundgarden]
5. Show Me How To Live (Live in Cuba) [Audioslave] (Previously unreleased)
6. Wide Awake (Live in Sweden) (Previously unreleased)
7. All Night Thing (Live in Sweden) (Previously unreleased)
8. Nothing Compares 2 U (Live at Sirius XM) (Previously unreleased)
9. One (Live at Beacon Theatre) (Previously unreleased)
10. Reach Down (Live at the Paramount) [Temple of the Dog] (Previously unreleased)
11. Stargazer (Live at the Paramount) [Temple of the Dog] (Previously unreleased)
12. Wild World (Live at Pantages Theatre) [Yusuf/Cat Stevens withChris Cornell] (Previously unreleased)
13. A Day In The Life (Live at the Royal Albert Hall) (Previously unreleased)
14. Redemption Song (Live at Beacon Theatre) [with Toni Cornell] (Previously unreleased)
15. Thank You (Live in Sweden)
DVD
1. Flower [Soundgarden]
2. Loud Love [Soundgarden]
3. Hunger Strike [Temple of the Dog]
4. Outshined [Soundgarden]
5. Jesus Christ Pose [Soundgarden]
6. Black Hole Sun [Soundgarden]
7. Fell On Black Days [Soundgarden]
8. Burden In My Hand [Soundgarden]
9. Can't Change Me
10. Preaching The End Of The World
11. Like A Stone [Audioslave]
12. Cochise [Audioslave]
13. Show Me How To Live [Audioslave]
14. Be Yourself [Audioslave]
15. Original Fire [Audioslave]
16. Arms Around Your Love
17. No Such Thing
18. Part Of Me (featuring Timbaland)
19. Long Gone (Rock Version)
20. Scream (Acoustic) (Previously unreleased)
21. Live To Rise [Soundgarden] (Previously unreleased)
22. By Crooked Steps [Soundgarden]
23. Nearly Forgot My Broken Heart (Lyric Video)
24. The Promise