Within Temptation have released a stream of their atmospheric new single Firelight.
The song has been lifted from the band's upcoming album Resist, which is due to arrive on February 1 via Spinefarm Records.
The song features guest vocalist Jasper Steverlinck, with singer Sharon den Adel saying: "It was originally written for my solo project My Indigo, but the track felt too dark back then.
"However, it was and still is one of my favourite songs – even more now Jasper is singing it with me. I think he's one of the best alternative rock singers in the world. He's Belgium's best kept secret!"
Speaking previously about the follow-up to 2014's Hydra, den Adel said that some of today's music lacked "a rebellious edge" and added it was Within Temptation's goal to "roughen the whole thing up as much as we could, allowing us to shape a new musical world that is heavier, dirtier and more futuristic than we've ever created before.
"Resist is our new take on metal; our way of giving a fresh lease of life to the rebellious edge of modern music."
Within Temptation are currently on tour across Europe.
Within Temptation - Resist
1. The Reckoning
2. Endless War
3. Raise Your Banner
4. Supernova
5. Holy Ground
6. In Vain
7. Firelight
8. Mad World
9. Mercy Mirror
10. Trophy Hunter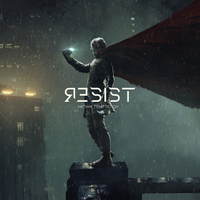 Within Temptation: Resist
Within Temptation's new album Resist is the follow-up to 2014's Hydra and features the lead single The Reckoning, which sees Papa Roach frontman Jacoby Shaddix make a guest appearance.