Tenacious D have released a lyric video for their new single titled Making Love.
It's been taken from their upcoming album Post-Apocalypto, which is due to arrive on November 2.
The duo of Jack Black and Kyle Gass are joined on the record by Foo Fighters leader Dave Grohl, who plays drums on the John Spiker-produced album.
Making Love is full of the same tongue in cheek vulgarity found in some of Tenacious D's earlier material – so it's probably best listening to it with headphones if you're at work.
The band have also released the second part of their Post-Apocalypto animated series which ties in with the record.
The six-part YouTube run sees Black and Gass attempt to save humanity in the aftermath of a nuclear explosion and battle evil creatures which have spawned following the blast.
Black illustrated all six episodes, while he and Gass voiced the characters. And, speaking recently with Rolling Stone, Black gave a glimpse into the amount of work involved in bring the series to life.
He said: "There were hundreds of hours of drawing involved. It was my serious job. I was doing it all the time. I was 9-to-5in' it.
"I have to say, I really enjoyed the process. And I hope that this thing is a gigantic success and we have to do another season because I'm digging it. I think I like it more than acting."
As for his influences, Black continues: "Beavis And Butt-Head, first and foremost. You can say that those were bad drawings, but they were also brilliant in their badness.
"There's nothing ever as funny as a drawn character as Beavis or Butt-head, those guys were a revelation. And so we were trying to get to that magical spot that Mike Judge found."
Post-Apocalypto is now available for pre-order, while the lyric video and first two NSFW parts of the animated series can be seen below.
Tenacious D - Post-Apocalypto
1. Post-Apocalypto Theme
2. Desolation
3. Hope
4. Cave Women
5. Making Love
6. Scientists
7. Take Us Into Space
8. I've Got To Go
9. Fuck Yo-Yo Ma
10. Reunion/Not So Fast
11. Daddy Ding Dong
12. Chainsaw Bazooka Machine Gun
13. Robot
14. March
15. Turd Whistle
16. Colors
17. Who's Your Daddy?
18. JB JR Rap
19. Woman Time
20. Save The World
21. Post-Apocalypto Theme (Reprise)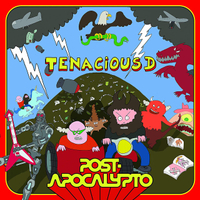 Tenacious D - Post-Apocalypto
Tenacious D will launch their new album Post-Apocalypto in November - the soundtrack to their six-part animated YouTube series which is now available.