Black Sabbath were responsible for many things: they were malevolent devil worshippers; they were evil incarnate; they turned generations of morbid teenagers into ghastly vampires; they practised black magic and got quite good at it. Or maybe not. The truth is, the Sabs began in Aston, Birmingham at the tail-end of the 1960s as a band called Polka Tulk (after a local Indian clothing emporium). By early '69 they had wisely changed their name to Earth. Some commentators say they were originally a blues band; others claim they were a jazz-fusion outfit. What is for sure is that their Zapata-moustachioed six-stringer once played in Jethro Tull for three weeks or so.
How the four band members – singer John Michael Osbourne, guitarist Anthony Frank Iommi, bassist Terence Michael Butler and drummer William Thomas Ward – stumbled on to the unique, doom-laden, bludgeoning sound of Black Sabbath has, in my view, never been satisfactorily explained. Jim Simpson, who ran a Midlands club called Henry's Blues House and became Sabbath's manager, once claimed the group were influenced by Kansas City swingers the Count Basie Orchestra.
It seemed as likely a clarification as any. The Sabs were also responsible for introducing me to heavy metal. I remember it vividly. I was visiting my aunt and uncle in Maidstone, Kent and went shopping one late summer's afternoon in 1971. Gazing into a record-shop window, a rather prosaic purple-and-black-coloured album sleeve with swirly writing on it caught my attention.
I don't know why, but it seemed to beckon me like the twisted fingers of a wicked witch's hand. It turned out to be a record called Master Of Reality – and for whatever reason, I knew I had to purchase it. Immediately, instantly and without further delay.
I wasn't at all familiar with Sabbath's music; I didn't even know Master… was the band's third album. As I handed over my precious shillings-and-pence to the store proprietor, little did I realise that a never-ending spiral down into the murky depths of metaldom had begun. I was just 16 years old. Oh no, please God help me. There was no turning back.

Essential - Classic Albums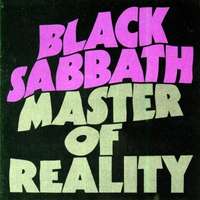 Master Of Reality (Vertigo, 1971)
The start of my infatuation with the Sabs' fetid oeuvre, album No.3 is where the entire caboodle coalesced. Producer Rodger Bain had reined in the band's sound [less steamroller, more traction engine]; Tony Iommi was eking out the guitar licks as if his plastic-tipped fingers were in meltdown; and Ozzy was on a noose-tightening lyrical high.
Children Of The Grave was a clarion call to dejected adolescents across the globe; Sweet Leaf was reefer-madness personified ('I love you, oh you know it'); and Solitude provoked acute wrist-artery scrutiny with the words: 'My future is shrouded in dark wilderness'. Yep, the flame of life was burning low on ole planet Earth. We were all dead to the world, except for the murmur, "Sabbaff, Sabbaff" coming from our lips.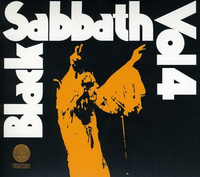 Less than a year after Master Of Reality, Sabbath delivered their masterpiece: Vol. 4. At the time, critics moaned that the band had toned down their brutal approach. But somehow the light and shade make this album's heavier moments – Supernaut, Under The Sun et al – all the more effective.
By now, the Sabs had refined their choice of drug: marijuana (Sweet Leaf) had given way to cocaine (Snowblind) and the enjoyment of an innocent toke had been superseded by a feeling of hollow emptiness. You couldn't help but be alarmed by Ozzy's shrill complaint: 'Icicles are in my brain.' Vol. 4 also has the original version of Changes, the ballad that was a No.1 hit for Ozzy and his daughter, Kelly.
Superior - The ones that helped cement their reputation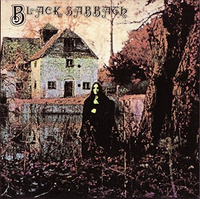 Rain falls. A church bell tolls. Thunderclaps resound. And then: 'Dah- dah-daumm-mm! Dah-dah-daumm-mm!' Tony Iommi's funereal guitar tones jolt the dead into wakefulness. Listen carefully and you can hear desiccated corpses raising their fissured fingernails to scratch at cobwebbed coffin lids. 'What is this that stands before me? Figure in black which points at me?' wonders Ozzy, plainly caught up in the wheels of confusion. I'm damned if I know, damned if I don't, but I'm chilled to the bone.
Forget Blue Cheer or Vanilla Fudge, this is where true heavy metal began: recorded in three days at a cost of just £600, Black Sabbath is as wounded and primeval as they come. It includes two rare Sabs cover versions: The Warning (by Aynsley Dunbar's Retaliation) and Evil Woman (by forgotten Minnesota rockers Crow).
Black Sabbath came out in January 1970; Paranoid followed just eight months later. Conservative middle England cowered beneath its Ercol dining furniture as the album, unbelievably, hit No.1 in the charts. The Sabs' second effort saw 'em ditch the bluesy, rambling, free-form elements of the debut and place the tip of the powerdrill firmly to the forehead.
At times, Paranoid is unbearably intense: War Pigs, for example, sounds all the more poignant given hostilities in the Middle East and beyond. 'Politicians hide themselves away/They only started the war,' scorns Ozzy. Are you listening, Bush and Blair? And then, of course, there's the song Paranoid itself. Written in a mere five minutes, it earned Sabbath a Top Of The Pops appearance alongside Cliff Richard. It's no wonder Ozzy thought he was losing his mind.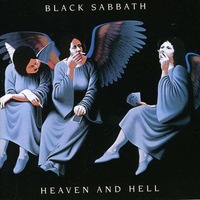 Heaven And Hell (Vertigo, 1980)
The heavy metal world was agog when Ozzy was replaced by Ronnie James Dio. Would the latter pull it off? Luckily, the answer was yes: le petit Ronald discarded the blouse he used to wear in Rainbow, and put on a studded leather jerkin instead. But seriously, Heaven And Hell was an improbable success. Somehow, Dio's mystical blatherings melded perfectly with the Sabs' implausible weightiness.
The band began to enjoy fresh impetus and the disappoints of previous albums Technical Ecstasy and Never Say Die!, both of which featured an increasingly bamboozled Sir Oswald Of Osbourne. In fact, the first cut on Heaven And Hell, the majestically metalliferous Neon Knights, is just about the best thing a certain pocket-sized magician with the initials RJD ever did.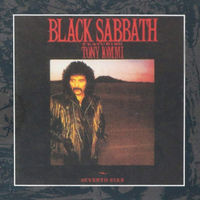 Purists might quibble about the inclusion of this polished, somewhat bluesy, decidedly un-Sabbathy release, but to hell with it. This started as a lone effort from Tony Iommi, but the label wanted the Sabbath badge on it. Seventh Star is very uneven, as most solo projects are, but it's rescued by amazing vocal pyrotechnics from ex-Deep Purple man Glenn Hughes. Just listen to him sing, 'Thunder-r-r-r shattered the dawn!' on first cut In For The Kill, and let the jolting spine-shudders commence.
Hughes then went on tour with Iommi and sang Sabs classics alongside Seventh Star songs. It was an awful failure, as Hughes was replaced early on by Ray Gillen, but happily the singer (who was in the depths of drug addiction at the time) doesn't recall too much about it these days.
Good - Albums worth exploring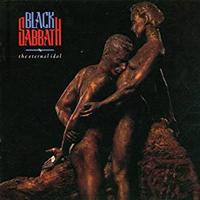 The Eternal Idol (Vertigo, 1987)
An underrated release featuring Tony Martin. 'The Cat', as he was inexplicably known, didn't have much personality or, indeed, an iota of charisma… but, boy, could he sing. This is a keenly crafted album, more in the spirit of Dio than Ozzy, and is about as close to 'commercial heavy metal' as you can get. The riff to opener The Shining is one of Iommi's finest and, if you take off your blinkers, you'll discover that the title track is one of the Sabs' classic cast-iron clankers.
Sadly, Martin lost the plot after this. For follow-up Headless Cross (1989) he tried to recreate the original Sabs spirit by singing a lot of ugly songs about Satan. You can imagine Ozzy laughing and spreading his wings in the background.
The best and worst from the rest...
It would be too simplistic to just recommend the Black Sabbath albums with Ozzy Osbourne and Ronnie James Dio singing on them, and advise you to steer well clear of the rest. As far as Ozzy is concerned, Sabbath Bloody Sabbath (73) and Sabotage (75) are admittedly superb but he also made some relative duffers: Technical Ecstasy (76) and Never Say Die! (78). Dio's reunion with the Sabs produced the decidedly dodgy Dehumanizer album in 92. But Mob Rules (81), from Ronnie's first stint with the band, is nearly as good as its predecessor, Heaven And Hell.
There's little evidence of how vocalists such as Ray Gillen, Dave Walker and Rob Halford, even, fared… and let's be grateful that the preposterous David Donato was never on any official recordings. As a rough guide, the majority of the Sabs' 90s albums are forgettable – although the 98 live album, Reunion, with Ozzy back in the fold, is quite a nostalgia-fest. Oh, and let's not forget that Bill Ward sang lead vocals on one track: It's Alright on Technical Ecstasy. He sounds a bit like Paul McCartney.
Avoid - the runt of the litter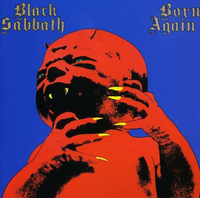 In one of the maddest moments in metal, Deep Purple's Ian Gillan stepped into Ronnie James Dio's pixie boots after the Sabs' Live Evil effort. Much as I admire Gillan as a singer, this was a marriage made in the bowels of Hades. Ian's good-time rock 'n' roll tendencies were directly at odds with Sabbath's patented ponderous approach, and his lyrics were appalling to say the least.
There's a track called Stonehenge, which is bad enough, but the undisputed low point is the title track: a dull, passionless ballad. This album sounds nothing like the original band; it's more similar to an uninspired version of Purple doing a spooky karaoke parody of Sabbath.
The album we'd like to see released
Black Sabbath - The Ballads
Surprisingly, the Sabs have enjoyed a fair number of mellow moments down the years. Classic Rock's projected album would feature both versions of the first-ever power ballad, Changes (the original on Vol. 4, plus Ozzy and Kelly's rendition), together with efforts such as No Stranger To Love (from Seventh Star), Am I Going Insane? (from Sabotage) and Planet Caravan (once covered by Pantera).
Add to the mix the various reflective instrumentals the band have recorded (Orchid, Laguna Sunrise, Fluff et al) and you've got an absolute bloody winner.