The Magpie Salute have released a stream of their new single Sister Moon.
It's the third song taken from the band's upcoming debut album High Water I, and follows Send Me An Omen and For The Wind (opens in new tab).
The band, featuring former Black Crowes Rich Robinson, Marc Ford and Sven Pipien, along with vocalist John Hogg, keyboardist Matt Slocum and drummer Joe Magistro, will release the album on August 10 via Provogue/Mascot Label Group
Speaking about how the song came together, guitarist Marc Ford says: "Sister Moon came from vocalist John Hogg and I staying in a house together. We lived together 24 hours a day for 10 days.
"We would just sit, poke at the fire, and tell stories. Many ideas came from that. That's how Sister Moon started. It's so vibe-y and beautiful. John and I had never met before. The track is like us meeting."
The Magpie Salute will release High Water II in 2019 on a date still to be confirmed and will play a show at London's Oslo venue on August 10.
The Magpie Salute - High Water I
1. Mary The Gypsy
2. High Water
3. Send Me An Omen
4. For The Wind
5. Sister Moon
6. Color Blind
7. Take It All
8. Walk On Water
9. Hand In Hand
10. You Found Me
11. Can You See
12. Open Up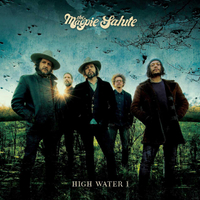 (opens in new tab)
The Magpie Salute - High Water I (opens in new tab)
The Magpie Salute will release their debut album later this month, featuring the singles Send Me An Omen, For The Wind and Sister Moon.