Deep Purple (opens in new tab) are to begin work on a new album this year, according to guitarist Steve Morse.
The band released their 20th record InFinite (opens in new tab) back in April 2017 after they had announced the initial dates of their Long Goodbye Tour.
But rather than saying goodbye, it would appear that Deep Purple have no plans to slow down, with Morse also revealing that further live shows could be announced in the near future.
Speaking with Andertons Music Co (opens in new tab). at the recent NAMM show in Anaheim (opens in new tab), Morse said: "We're starting two albums – one with Flying Colors and one with Deep Purple.
"And I know there's more Deep Purple gigs that they haven't announced yet – so don't tell them that I told you so!"
Asked if the band would tour around the world in support of the record, Morse replied: "I don't know. This year, I think it might be US, but there's nothing booked for sure. I'm running on rumour power!"
Last summer, frontman Ian Gillan said he thought it was "too late" to reunite with guitarist Ritchie Blackmore.
He added: "We're so close to the end now – within a year or two, three, four. Who knows? But it's close. And I think probably, as Ian Paice said, we're happy now. It stopped raining. The sun's shining. Let's enjoy it."
In September last year, Deep Purple's Machine Head, Who Do We Think We Are?, Burn, Stormbringer, Come Taste The Band, Made In Japan, Made In Europe and Last Concert In Japan were remastered and released on purple vinyl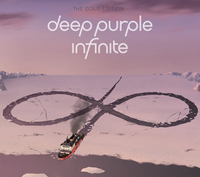 (opens in new tab)
Deep Purple: InFinite (opens in new tab)
Deep Purple's follow-up to Now What?! was produced Bob Ezrin back in 2017 and featured the singles Time For Bedlam and The Surprising.