Rod Stewart has reached out to Jeff Beck, saying he'd like to make music with him again.
The pair played together in The Jeff Beck Group in the late 60s, but the pair's personality clashes in the past have meant the chance of a reunion has seemed remote… until now.
In a new interview with Rolling Stone, Stewart was asked if he and Beck could one day put their differences aside to make music together again.
Stewart replies: "Well, my voice and his guitar is a match made in heaven. It would be a lovely thing to do. It'd be a complete left-hand turn.
"We did try it once, but we couldn't see eye to eye. I mean, a serious clash of egos, but you know, never say never.
"I know it's a cliché, but really, I'm up for it if he's up for it. The thing is, we both want to produce. That's the thing."
Rolling Stone tell the vocalist that a blues-rock record would be "explosive" to which Stewart replies: You're right. You're spot on. Well, you put it out there. Let me know what he says."
Rod released his new studio album Blood Red Roses last month via Decca Records.
Speaking about the record he said: "I always think I make albums for a few friends and this record has that intimacy. Sincerity and honesty go a long way in life and the same is true in songwriting."
Stewart is currently on tour across North America, which will conclude with a six-night residency at The Colosseum at Caesars Palace, Las Vegas, in November and December.
He'll then return to the UK and Europe next spring for further live shows.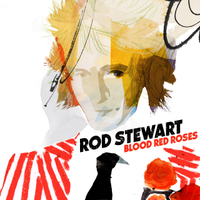 Rod Stewart - Blood Red Roses
Rod Stewart returns with his first album since 2015's Another Country. Blood Red Roses contains a total of 13 new tracks, including the lead single, Didn't I.