Rami Malek has earned plaudits from movie goers and music fans alike for his portrayal of Freddie Mercury in new Queen film Bohemian Rhapsody (opens in new tab).
The movie has become the second biggest music biopic in US history since it premiered last month – a feat which at one point seemed unlikely due to it being in production hell for years.
Mr Robot star Malek was brought onboard to play the iconic Queen frontman in November 2016 following the acrimonious departure of Sacha Baron Cohen. Then, in December last year, director Bryan Singer was fired (opens in new tab) and was replaced by Dexter Fletcher.
Asked how the change in directors affected him in the latter stages of filming, Malek tells the Press Association (via The Independent.ie (opens in new tab)): "It was an immense responsibility for me. I felt like I was running on a highly confident level at times.
"This was an honour to portray Freddie Mercury, and there was a certain amount of justice that you have to give to the man in order to portray him, or portray the band. So I wanted to go to work with the highest level of functioning capability I could.
"So we all raised our games, day in and day out. And I appreciated taking a leadership responsibility, because that's what Freddie would have done."
Earlier this month, Malek reported that he would have liked to "delve deeper" into Mercury's private life in the film (opens in new tab), adding: "I just kept pushing for more of that aspect of his life. I don't know if we ever felt fulfilled by it."
Classic Rock recently ran an online poll to find out the greatest Queen song of all time. Close to 50,000 fans voted and the results are now in.
Find out what made the top 50 (opens in new tab).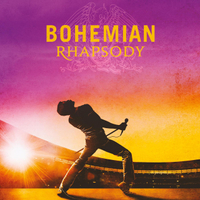 (opens in new tab)
Queen: Bohemian Rhapsody (opens in new tab)
The official soundtrack to the Queen biopic features previously unreleased audio from Live Aid, new versions of old favourites and a selection of songs from the band's back catalogue.