Actor Rami Malek says he wanted to "delve deeper" into Freddie Mercury's private life in the new Queen film Bohemian Rhapsody.
The movie was released late last month and focuses on the first 15 years of the band. And while Malek has been praised for playing iconic frontman Freddie Mercury, he says they could have gone even further.
Malek tells Who: "You see him on stage and then almost instinctually I'd want to discover more. There's just an eloquence and elegance to him that you see when he's on stage – and then you can see where all that was birthed from.
"I mean, not many artists are wearing an entire head-to-toe leather outfit, sipping a champagne flute and telling their audience to strip naked if they please. And he still comes off with this essence of royalty."
He adds that "we could delve deeper" into the vocalist's relationships and adds: "I just kept pushing for more of that aspect of his life. I don't know if we ever felt fulfilled by it."
Earlier this week, censors in Malaysia were accused of cutting scenes from the film due to the country's strict laws on homosexuality.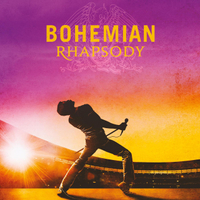 Queen - Bohemian Rhapsody
The official soundtrack to the Queen biopic features previously unreleased audio from Live Aid, new versions of old favourites and a selection of songs from the band's back catalogue.