Paul McCartney has announced that his new studio album will be released later this year.
The follow-up to 2013's New is titled Egypt Station and it will launch on September 7 via Capitol Records.
The news comes just hours after the former Beatle released the double A-side single I Don't Know, Come On To Me.
Speaking about the record, McCartney says: "I liked the words 'Egypt Station.' It reminded me of the 'album' albums we used to make.
"Egypt Station starts off at the station on the first song and then each song is like a different station. So it gave us some idea to base all the songs around that.
"I think of it as a dream location that the music emanates from."
The album, which also shares its name with one of McCartney's paintings, was recorded between Los Angeles, London and Sussex, and produced by Greg Kurstin, while Ryan Tedder was behind the desk for a single track.
The final tracklist has yet to be released, but the cover art can be seen below, along with lyric videos for I Don't Know and Come On To Me, while a teaser for Macca's upcoming Carpool Karaoke appearance with James Corden can also be seen.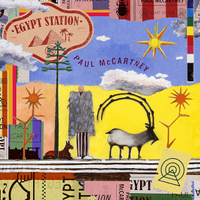 (opens in new tab)
Paul McCartney - Egypt Station (opens in new tab)
Paul McCartney returns with his highly anticipated new album, featuring the double A-side single I Don't Know / Come On To Me. It's Macca's first record of all-new material since 2013's New.