Orange Goblin - The Wolf Bites Back
1. Sons Of Salem
2. The Wolf Bites Back
3. Renegade
4. Swords Of Fire
5. Ghosts Of The Primitives
6. In Bocca Al Lupo
7. Suicide Division
8. The Stranger
9. Burn The Ships
10. Zeitgeist
Orange Goblin have released a stream of The Wolf Bites Back.
It's the title track from the UK outfit's upcoming ninth studio album, which will arrive on June 15 via Universal/Candlelight Records. The new song follows Sons Of Salem (opens in new tab) which the band revealed back in April.
Listen to it below.
Orange Goblin frontman Ben Ward said: "We are very excited about this new album. The Wolf Bites Back is our strongest and most diverse collection of songs to date – it's certainly a lot darker both musically and lyrically.
"It is still definitely a distinct Orange Goblin album, but we have incorporated a lot more variation on this record and there are hints of Can, Captain Beyond, Wishbone Ash and The Stooges nestling amongst the obvious Sabbath and Motorhead influences.
"Lyrically I have explored everything from alien serial killers to zombie biker gangs, Buddhist warriors through to descendants of the Salem witches!"
Orange Goblin have several festival appearances lined up throughout the summer. Find details below.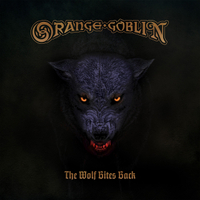 (opens in new tab)
Orange Goblin - The Wolf Bites Back (opens in new tab)
Orange Goblin return with their ninth studio album and follow-up to 2014's Back From The Abyss. It features the storming Sons Of Salem and the blistering title track. Get it now!
Orange Goblin 2018 tour dates
Jun 16: London O2 Stone Free Festival, UK
Jun 23: Clisson Hellfest, France
Jul 28: Michelau Rock Im Wald Festival, Germany
Aug 11: Kortrijk Alcatraz Metal Festival, Belgium
Aug 18: Dinkelsbuhl Summer Breeze Festival, Germany
Sep 08: Aleksandrow Lodzk Summer Dying Loud Festival, Poland
Oct 20: Leeuwarden Into The Void Festival, Netherlands