Monster Truck have released a lyric video for their new single Thundertruck.
It's the latest track taken from the band's upcoming album True Rockers, which is set to arrive on September 14 via Dine Alone Records in Canada and Mascot Records across the rest of the world.
The band previously released the title track (opens in new tab) – featuring Twister Sister icon Dee Snider – and Evolution (opens in new tab).
Thundertruck was originally written during the sessions for 2016's Sittin' Heavy (opens in new tab), with guitarist Jeremy Widerman explaining: "We had worked on that with me playing that lead part, and it left a big gaping hole in the heaviness of the song.
"Once we shifted that line over to the organ, we were like, 'This is awesome.'"
Monster Truck took a recording rig out on the road with them in 2017 and used it to develop ideas for the record before heading to Echo Mountain Studios in Asheville, North Carolina, with producer Dan Weller.
Frontman Jon Harvey said: "When the inspiration strikes, use it. If you're not gonna use it, you're wasting it. As soon as you think something could be a good song, work on it immediately.
"Inspiration is so valuable. We want people to listen to it and have fun – have as much fun as possible."
Monster Truck will head out on tour across the UK and Europe with Black Stone Cherry from November (opens in new tab).
Monster Truck - True Rockers
1. True Rocker
2. Thundertruck
3. Evolution
4. Devil Don't Care
5. Being Cool Is Over
6. Young City Heart
7. Undone
8. In My Own World
9. Denim Danger
10. Hurricane
11. The Howlin'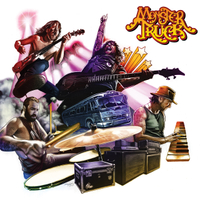 (opens in new tab)
Monster Truck - True Rockers (opens in new tab)
Canadian outfit Monster Truck return with the follow-up to 2016's Sittin' Heavy, which includes the blistering title track featuring guest vocals from Twister Sister ex Dee Snider.