Coheed And Cambria have released a stream of their catchy new single Old Flames.
It's the latest track taken from the band's upcoming album The Unheavenly Creatures, which will launch next Friday (October 5) via Roadrunner Records.
The record features 15 tracks and marks the band's return to concept albums and is the opening act in a brand new story arc set among the backdrop of The Amory Wars universe.
Speaking previously to Rolling Stone, frontman Claudio Sanchez explained: "Concept records in themselves are not weird, but for a band to continue a concept over their discography can be a little intimidating to somebody on the outside.
"It's like a monthly issue comic book, like, 'I don't want to get invested into this 10 issues in. I need to know where to start. If I can't get issue one, I'm just not going to read it.'"
Coheed have also teamed up with the New York Comic Con (opens in new tab) for the album's release and will play at the city's Hard Rock Cafe at Times Square next Friday.
The band will also be at the convention for a signing session and will return to the UK next month for further live shows.
Coheed And Cambria - The Unheavenly Creatures
1. Prologue
2. The Dark Sentencer
3. Unheavenly Creatures
4. Toys
5. Black Sunday
6. Queen Of The Dark
7. True Ugly
8. Love Protocol
9. The Pavilion (A Long Way Back)
10. Night-Time Walkers
11. The Gutter
12. All On Fire
13. It Walks Among US
14. Old Flames
15. Lucky Stars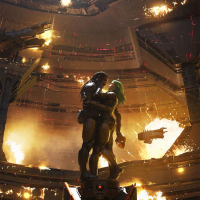 (opens in new tab)