Watching The Song Remains The Same at the cinema was a rite of passage for a whole generation of rock fans, and the album that followed was the soundtrack to the film, recorded at New York's Madison Square Garden in July 1973.
Earlier this year guitarist Jimmy Page oversaw the remastering of a re-release, which hits the stores on September 7 via Atlantic/Swan Song.
And now? The deluxe version is half price on Amazon (opens in new tab) as the retailer ramps up its Cyber Monday activity.
The box set, reduced in price from £180.29 to £90.15 (opens in new tab), featured the following:
Super Deluxe box set contents
• Remastered audio on 2CD and 4 heavyweight vinyl LPs
• 2DVD set of the The Song Remains The Same featuring the full theatrical version of the film plus bonus content, including four performance outtakes that were not part of the original film: Celebration Day, Over The Hills And Far Away, Misty Mountain Hop and The Ocean
• DVD of the full album in Dolby Digital 5.1 Surround and PCM Stereo, plus photo gallery
• High-def download card of all stereo audio content at 96kHz/24 bit
• 28-page book featuring band photos and stills from the film and an essay by Cameron Crowe
• Replica of the Japanese program from 1977, previously available only when the film first toured cinemas in Japan
• High-quality print of the original album cover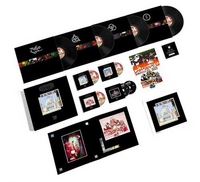 (opens in new tab)