Eagles have announced a new career-spanning box set.
The bumper collection titled Legacy will be released on November 2 via Rhino Records on 12 CD/DVD and Blu-ray, while a 15LP version will also launch on the same day.
The set will bring together all seven of the band's studio albums: 1972's Eagles, 1973's Desperado, 1974's On The Border, 1975's One Of These Nights, 1976's Hotel California, 1979's The Long Run and 2007's Long Road Out Of Eden.
Legacy will also include three live albums and a compilation of their singles and b-sides. The DVD features the concert video Hell Freezes Over, while the Blu-ray contains Farewell Tour: Live From Melbourne.
The vinyl set is spread across 15LP and both Hell Freezes Over and Millennium Concert will make their vinyl debut in the collection.
Both the CD and LP editions will come with a 54-page hardbound featuring previously unreleased pictures, memorabilia and artwork from throughout Eagles' rich career.
Legacy is now available for pre-order. Find further details below.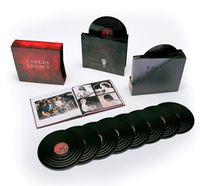 (opens in new tab)
Eagles - Legacy (opens in new tab)
Available as both a CD and LP collection, the Legacy box set brings together all seven Eagles' studio albums, along with singles, b-sides and live cuts spanning their career