Scottish broadcaster and former NME writer Stuart Cosgrove once famously railed against Britpop. "What did it mean to kids in Ulster or on estates in Milton in Glasgow?" he raged, adding that there were two certainties about it: "One: that it was invented by someone in London. And two: that he was a twat."
Britpop provokes those sorts of reactions. Even now, with decades between us and the genre's all-consuming peak (all over the charts, all over the music press, even – with the Blur Vs Oasis war – dominating headlines on the national news), the backlash is still being felt.
Cosgrove is right on one thing: Britpop was never truly British. With the possible exception of Welsh bit part players Catatonia, all the key bands were English, and one of their shared lyrical concerns was what it meant to be English. Where Cosgrove is off the mark is in suggesting that it didn't mean anything to proudly Irish, Scottish or Welsh kids. The Englishness of Ray Davies, Paul Weller, John Lennon or Steve Harris – or the southern-ness of Lynyrd Skynyrd, for that matter – never stopped anyone in Scotland or Ireland from loving them. Equally, people from all over the UK could relate to Oasis's sneering mix of The Beatles and the Sex Pistols, or enjoy Pulp's witty take on the class war.
Much has been made of Britpop's connection to the triumph of Labour after 666 years of Conservative rule, and the promise of a new, cool Britannia. That didn't happen, obviously, but Britpop had peaked by then anyway. Britpop was a reaction against the bombastic American heavy rock angst that grunge had become by the mid-90s, and against faceless, shoe-gazing indie rock. It was also the soundtrack to Euro '96 – a championship of cheap thrills, big hopes and a bad comedown. It was the age of Loaded magazine, of celebrating British heroes like Oliver Reed and George Best, of Vic and Bob, Kathy Lloyd, and Trainspotting.
Here, we round up the best albums spawned by this enduringly divisive genre.

Oasis - (What's The Story) Morning Glory? (Creation, 1995)

It didn't matter that it had an album title as impenetrable as the vast majority of its lyrics, …Morning Glory swaggered into the charts and into the hearts of young Britain with cocaine confidence. From the stomping, sneering Gary Glitter-thieving opener Hello, to epic closer Champagne Supernova, the album had irresistible terrace choruses, and three bona fide classics in Wonderwall, Don't Look Back In Anger and Some Might Say.
Earlier, the Oasis vs Blur war had been won when Blur's Country House reached No.1 ahead of Roll With It. It turned out Blur had won the battle, but not the war.
Blur - Parklife (Food/Parlophone, 1994)

Damon Albarn's band arrived on the coat-tails of Manchester, apeing the monkey-faced pop of the Stone Roses. Later they tried to sell themselves as alternative rock, joining the Rollercoaster tour with the Jesus & Mary Chain, Dinosaur Jr and My Bloody Valentine. Finally they settled on a moddish sound that owed a lot to The Kinks, Small Faces and The Jam. If their authenticity was in question, their talent wasn't: Parklife was funny, affecting, punky and totally in tune with the times. End Of The Century, Tracy Jacks, Bank Holiday, To The End, Clover Over Dover… Blur would never reach these heights again.
Oasis - Definitely Maybe (Creation, 1994)

Two Oasis albums in one Buyer's Guide? Isn't there a law against that kinda thing? The fact is, Oasis ruled this period so authoritatively that no collection of Britpop is complete without both …Morning Glory and their debut album Definitely Maybe.
Opener Rock'n'Roll Star (like the opening track on the Stone Roses' debut I Wanna Be Adored) was a statement of intent and a self-fulfilling prophecy. By the time the album had ended – after 45 minutes of Beatles-esque melodies, Rotten-esque vocals and an enormous wall of guitars – you were left in no doubt that there were a new bunch of rock stars on the block.
The La's - The La's (Go! Discs, 1990)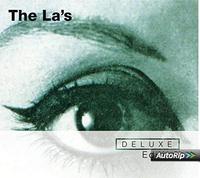 Too early for Britpop? Maybe, but this is where it all started. In an early interview, Oasis songwriter Noel Gallagher claimed that the goal of Oasis was "to finish what The La's started". By which we presume he meant steal indie pop from middle-class clever dicks and make classic melodic guitar music that's perfect for skinning up to.
For a short while, The La's had that market cornered. Twelve perfect tracks of Beatles/Stones-esque scally genius that sounds like it was recorded in a barn, it later transpired that perfect love song There She Goes was actually about heroin. Weirdly, The La's have never made another album.
The Verve - Urban Hymns (Island, 1997)

Of course yer hard-core Verve fan will tell you that their earlier, psychedelic stuff is the best, but this is the Britpop album, and the record that made them – and ended them. The arrival of a world-conquering Verve was heralded with the release of Bittersweet Symphony, an epic, majestic single that nicked its stirring string parts from an orchestral version of the Rolling Stones' The Last Time. The band's follow-up single The Drugs Don't Work was a world-weary ballad that hit No.1 in the UK. One of the oddest though deserved No.1s of the time, it was like the big comedown after the mid-90s highs of Britpop.
Pulp - Different Class (Island, 1995)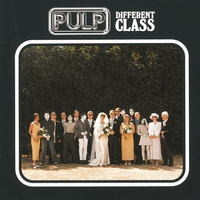 Jarvis Cocker was Britpop's wittiest and most articulate songwriter and Different Class is his tour de force: an insightful album about British class divides.
If that makes it sound a bit 'Billy Bragg', it's not. Different Class has balls and brains. Cocker's tales of Common People, Misfits and being Sorted For E's And Wizz reach an apex with I-Spy in which Cocker confronts the middle-class husband of a woman he's been having an affair with: 'I can't help it. I was dragged up. My favourite parks are car parks. Grass is something you smoke. Birds are something you shag. Take your Year In Provence and shove it. Up. Your. Ass'.
Suede - Dog Man Star (Nude, 1994)

Suede are often credited with kick-starting Britpop, their very English eponymous debut album coming out in 1993 at the height of grunge, when all British alternative rock had to offer was the blank-eyed bliss-out of shoe-gazing.
The singles from Suede's first album (Metal Mickey, Animal Nitrate, So Young) had been so over-exposed that by the time the album came out it was a disappointment – which is why we prefer second album Dog Man Star. Well, that and the fact that it has The Wild Ones, a grand and romantic single that features outstanding guitar playing from Bernard Butler and remains one of the best songs of the era.
Supergrass - I Should Coco (Parlophone, 1995)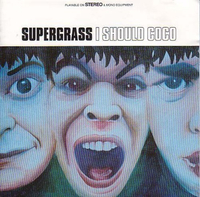 A stunning debut album from a trio who were mostly still in their teens, I Should Coco crammed classic British bands like the Pistols, The Who, Madness, and the Small Faces into pump-action water cannon, then spritzed the resultant upbeat, psychedelic punk-rock all over the place. Caught By The Fuzz was a sweet tale of getting done for possession of hash added to an Anarchy In The UK-style riff; Mansize Rooster was knockabout cockernee pop; Alright was the mind-bendingly catchy pop hit; while Lenny and Sitting Up Straight were guaranteed to get any student union nightclub mosh-pit going.
Black Grape - It's Great When You're Straight, Yeah (Radioactive, 1995)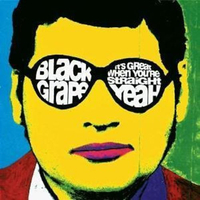 After the Happy Mondays broke up, few expected to see Shaun Ryder and Bez again, let alone back and at the top of their game. But any doubts were cast aside with just one listen to the raucous opener Reverend Black Grape, a riot of beats, harmonica and guitar. While the rest of the Britpoppers seemed stuck in a very old idea of Britian, Black Grape were a slice of 90s Britain: multi-cultural, hedonistic, funny, dangerous, and with no regard to political correctness, as the likes of Tramazi Party, an ode to the 'joys' of tranquilliser temazepam, proved without doubt.
Paul Weller - Stanley Road (Go! Discs, 1995)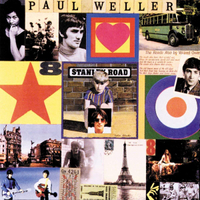 The Modfather had already been granted the status of honorary Godfather of Britpop by disciples like Noel Gallagher and Ocean Colour Scene by the time this album came out. While Weller's rebirth had already started with his previous two solo albums, he was reinvigorated by his new-found hero status, having been label-less only a couple of years previous. Stanley Road took him back to the top of the British album chart. After years with the Style Council, finally he'd made an album that rocked, with songs like The Changingman and Out Of The Sinking reminding people of the fire of Jam classics such as Going Underground.