2022 has been a vintage year for metal, and we're not even halfway through. Blockbuster releases from Rammstein, Ghost, Halestorm and Slash have shown that the scene is far from dead commercially, while the likes of Venom Prison, Zeal & Ardor and Soul Glo prove it's never been more creatively vibrant.
But where to start? Well, funny you should ask, because we're here to help. We've compiled a list of the very best albums of 2022 so far – ones that will undoubtedly make most people's end-of-year list. So check 'em out – and remember, there's going to be plenty more where these came from over the coming months…

Abbath - Dread Reaver
Three albums since Abbath departed black metal legends Immortal and the singer shows no signs of wanting to go back. Dread Reaver catches the full brunt of his ire, reviewer Chris Chantler elaborating that it "edges[...] ever closer to the sweet spot between Bathory, Motörhead, Manowar and Kiss (his stated aim for this album's ear-ringing production)".
Buy from Amazon (opens in new tab)
---
Amorphis - Halo
14 albums in and Halo proves Amorphis have lost none of their mastery over majestic melodeath-meets-prog-metal. Loaded with enticing hooks and sweeping lead guitars, Hammer reviewer Adam Rees noted that Halo's "increased focus on recognisable structures and unashamedly enticing hooks results in a host of anthems that the Finns' diehard admirers will take enormous delight in."
Buy from Amazon (opens in new tab)
---
Architects – For Those That Wish To Exist At Abbey Road
For Those That Wish To Exist was Architects' most successful album yet, scoring them a first ever UK No.1 album. But Architects have arguably bettered the original version of the record with this live document, recorded at fabled London studio Abbey Road. It not only shows just how tight and ferocious they are in full flight, but their performance adds depth to the boldest and most challenging material of their career. This could very well prove to be the definitive versions of these songs.
Buy from Amazon (opens in new tab)
---
Bloodywood - Rakshak
Mixing elements of nu metal, rap metal and traditional Indian folk, Bloodywood's debut Rakshak is testament to the vision of a band who have earned millions of followers worldwide and played sold-out international tours. As noted by Hammer reviewer Elliott Leaver, "If this is what Bloodywood can achieve on their own, imagine where they could go with a label behind them. Surely that's only a matter of time."
Buy from Amazon (opens in new tab)
---
Cancer Bats – Psychic Jailbreak
They may be down to a three-piece after the departure of guitarist Scott Middleton, but Cancer Bats have lost one of their power. Psychic Jailbreak doesn't stray far from what they've done before – sandpaper howls, freight train rhythms and riffs thicker than a rugby player's thigh – but their idiosyncratic style remains reliably awesome here.
Buy from Amazon (opens in new tab)
---
Carpenter Brut – Leather Terror
Synthwave kingpin Carpenter Brut's fourth album is an instant mood-lifter, guaranteed to get even the crustiest curmudgeon listener gyrating like a disco lothario. The none-more-80s concept of a serial killer taking revenge on a cheerleader delivers some darkness, but Leather Terror's Tron-meets-Slayer bangers make this the most danceable record of the year.
Buy from Amazon (opens in new tab)
---
Confess - Revenge At All Costs
Imprisoned after the release of their second album and ultimately forced to flee to Norway, Iranian metal band Confess poured their hellish experiences into a triumphant third album that gave them a new lease of life. "Confess sound fucking pissed off. Revenge At All Costs is a groove/thrash attack that adds a lethal venom to Confess's bite," wrote Matt Mills. "Inevitably, Revenge At All Cost's traumatic backstory will make it a hotly discussed pillar of 2022 metal, but its power and quietly inventive songwriting deserve just as much attention."
---
Cult Of Luna - The Long Road North
For almost 25 years, Cult Of Luna have paved their own path towards post-metal perfection, growing ever more ambitious with each new release. The Long Road North builds upon past motifs whilst exploring tantalising new possibilities for the band's sound. In his Hammer review, Alex Deller proposed that "this willingness to explore and experiment ensures The Long Road North is both cerebral and exhilaratingly heavy, and should leave us all hoping that the band's arduous, eventful journey has no end in sight."
Buy from Amazon (opens in new tab)
---
Dream Widow – Dream Widow
The soundtrack to the Foo Fighters' recent schlock-horror big-screen blow-out Studio 666, Dream Widow – aka Dave Grohl's Extreme Metal Project – is as wild and riotous as the movie it accompanies. Where his all-star '00s metal band Probot was an homage to the bands that influenced him, this is the sound of Grohl having an utter blast in every sense. There's a bingo-card of influences, from grindcore and doom to sludge and stoner, but it's all done with absolute love and a weird kind of respect. Will it scare the beejesus out of regular Foo Fighters fans? Yep, but that's the point.
---
Ghost - Impera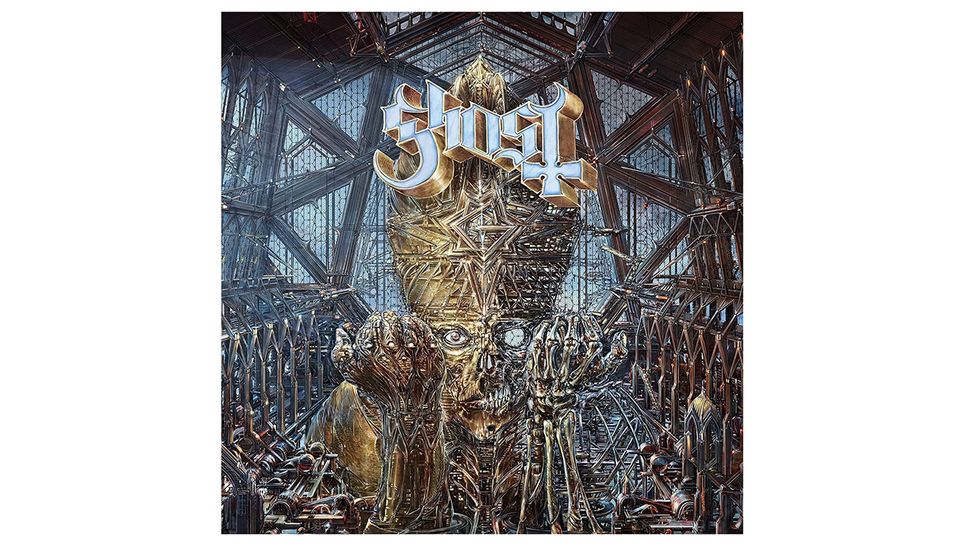 Now a bona fide arena headline act, Ghost's Impera sees them indulge their appetite for enormodome anthems with suitably ridiculous flair. Dave Everley was fully on board, writing that "with Impera, Ghost have served up the greatest arena rock album since the invention of the permed mullet/slashed denim jacket combo. The glorious, arms-in-the-air approach of its predecessor is ramped up a hundredfold here. Every chorus is bigger, every backing vocal is stacked to the heavens, every booming drumbeat makes Def Leppard's Pour Some Sugar On Me sound like a pensioner absent-mindedly tapping on a pile of wet bog paper with an out-of-date sausage roll."
Buy from Amazon (opens in new tab)
---
Halestorm – Back From The Dead
Halestorm have galvanised a pandemic's worth of pent-up demons and pouring them into their heaviest record yet. Where 2018's Vicious was angry, Back From The Dead is livid. Tortured sentiments are matched by furious riffs and beats, even if they never lose their knack for a blockbusting anthem. Beer-drinking music is not it, but if it's a hard-hitting yet catchy dose of catharsis you seek turn it up and dive straight in.
Buy from Amazon (opens in new tab)
---
Hammerfall - Hammer Of Dawn
In the late 90s Hammerfall were a lone beacon for European power metal fans to rally around. These days we might have the likes of Powerwolf and Sabaton leading the charge, but Hammer Of Dawn shows the trailblazers are still in triumphant form. "Hammer Of Dawn sounds like the work of a fired-up, united front with a point to prove," wrote Dom Lawson. "Hammerfall's 12th full-length feels bigger, bolder and more bombastic, and is also blessed with some of the best songs the band have written in years."
Buy from Amazon (opens in new tab)