Avenged Sevenfold have released a video showing how they created their song The Stage.
It's the first part of a video series which explores how the band put together every song on their 2016 album The Stage.
The video shows frontman M Shadows and guitarist Synyster Gates breaking down every aspect of the track, discussing the process behind their performances and that of their bandmates, along with some extra studio footage from recording sessions.
Shadows says: "For this song, we knew we needed something with one foot in the older stuff that had more of a groove and something that also kept with the concept of The Stage.
"We had basically three different songs that we were working on that we blended together."
It's amazing to see how much intricate work went into creating the final song."
Check out the video below.
Earlier this month, A7X guitarist Zacky Vengeance said that the band had "lots of ideas floating around" for new material and added "we're all pretty anxious to get back to work."
Avenged also recently launched the Black Reign EP, which brought together all the songs the band have recorded for the smash hit Call Of Duty video game series.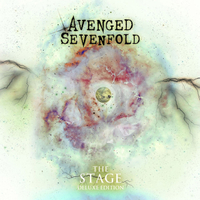 Avenged Sevenfold - The Stage Deluxe Edition
The deluxe edition of Avenged Sevenfold's 2016 album The Stage brings together all the original tracks along with a range of covers, including their take on Pink Floyd's Wish You Were Here.