Venom have announced their return with a brand new single and details of their upcoming studio album Storm The Gates.
The extreme metal pioneers will launch the follow-up to 2015's From The Very Depths on December 14 via Spinefarm Records and have marked the announcement by unleashing a stream of their new single Bring Out Your Dead.
Venom leader Cronos says: "We always say that a song has to find itself, has to develop. We've had nearly three years with these compositions, speeding some up, slowing some down, changing the lyrics, adding breaks, moving verses – that's how songs grow, and that's how you end up writing a better album.
"That's why I don't believe in releasing a record every year – you can't possibly have let those songs develop to their full potential.
"These albums are going to be around a lot longer than I am, so they need to be able to stand up for themselves. With an album every year, I think you end up with two or three good songs and then a load of shit – and I certainly don't want to release that sort of album!"
Find the stream of Bring Out Your Dead below, along with the Storm The Gates cover art, tracklist and pre-order details.
Venom: Storm The Gates
1. Bring Out Your Dead
2. Notorious
3. I Dark Lord
4. 100 Miles To Hell
5. Dark Night (Of The Soul)
6. Beaten To A Pulp
7. Destroyer
8. The Mighty Have Fallen
9. Over My Dead Body
10. Suffering Dictates
11. We The Loud
12. Immortal
13. Storm The Gates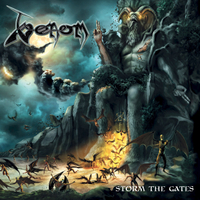 (opens in new tab)
Venom: Storm The Gates (opens in new tab)
Venom are back with Storm The Gates – their first record since 2015's From The Very Depths. It features the blistering lead single Bring Out Your Dead.