Suicidal Tendencies - Still Cyco Punk After All These Years
1. I Love Destruction
2. F.U.B.A.R.
3. All Kinda Crazy
4. Sippin' From The Insanitea
5. It's Always Something
6. Lost My Brain… Once Again
7. Nothing' To Lose
8. Gonna Be Alright
9. Ain't Gonna Get Me
10. All I Ever Get
11. Save A Peace For Me
Suicidal Tendencies have announced that they'll release their new studio album next month.
Still Cyco Punk After All These Years will arrive on September 7 and follows the EP Get Your Fight On! which launched in March this year.
And to mark the announcement, the band have released an audio stream of F.U.B.A.R. – the first track from the record. Listen to it below.
A statement on the album reads: "In the early 80s when Suicidal Tendencies started, punk rock was not very welcoming to 'new ideas', especially from a new crew that were obviously not worried about fitting in.
"But SxTx wasn't there to be 'accepted' and not only played their own style of Cyco Punk, but reinvented the DYI attitude to a level never seen before with their distinctive look and sound.
"For 35 years ST hasn't worried about what other bands or people were or weren't doing – about what was cool or trendy at the time. They didn't ask for permission, nor did they care who it offended. They did what they wanted, but most importantly for the right reason, because it's what they felt, not cause they wanted to be liked.
"That didn't make things easy. They were banned in Los Angeles, police riots and harassed by various 'authorities' and even the Secret Service got into the act, 'dropping in' and paying singer Mike Muir a visit."
The statement continues: "Soon after the PMRC got into the act as would many others, but the music played on, and ST became the soundtrack to an army of Cyco's worldwide…to punx, thrashers, metallers, skaters, surfers, moto and other extreme athletes all found motivation in the ST sound to stand on their own and blaze their own trail.
"Cyco Punk lives on! There's no time machine to go back – and thank goodness for that). This will be a full on Cyco Punk record taken to a whole new level with the legendary drummer Dave Lombardo brutally beating the songs and sound that is made to get your Slam On!"
Suicidal Tendencies have also announced a run of Still Cyco Punk US tour dates for later this year, which includes two album launch shows where they'll play their self-titled 1983 album in full.
Find further details below.
Suicidal Tendencies Still Cyco Punk US tour dates
Sep 07: Boston House Of Blues, MA (Release party)
Sep 08: Washington Club, DC (Release party)
Sep 16-18: Chicago Riotfest, IL
Sep 18: Phoenix The Pressroom, AZ
Sep 19: Albuquerque Sunshine Theater, NM
Sep 21: Dallas Gas Monkey Bar and Grill, TX
Sep 22: San Antonio RiverCity Rock Fest, TX
Sep 23: Houston House of Blues, TX
Sep 25: Atlanta The Masquerade, G
Sep 27: Greensboro Cone Denim Entertainment Center, NC
Sep 28: Louisville Louder The Life, KY
Sep 29: Flint The Machine Shop, MI
Oct 01: Minneapolis First Avenue, MN
Oct 03: Des Moines Wooly's, IA
Oct 05: Denver Summit, CO
Oct 06: Salt Lake City The Complex, UT
Oct 19: Huntington State Beach Surf City Blitz, CA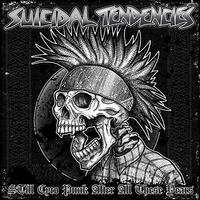 (opens in new tab)