Alice In Chains - Rainier Fog
1. The One You Know
2. Rainier Fog
3. Red Giant
4. Fly
5. Drone
6. Deaf Ears Blind Eyes
7. Maybe
8. So Far Under
9. Never Fade
10. All I Am
Baseball's Seattle Mariners have announced an Alice In Chains Night for later this month.
The special occasion will take place on August 20 at Safeco Field when the Mariners take on World Series champs the Houston Astros.
Those who buy tickets direct from MLB (opens in new tab) will not only get a Terrace Club ticket for the game, but will also get the chance to listen to the new Alice In Chains album Rainier Fog four days before its official release at a pre-game listening party.
Fans will also receive an Alice In Chains t-shirt and a CD of Rainier Fog. The special ticket promotion will close at 5pm local time on August 17.
There's no news if Jerry Cantrell, Sean Kinney, Mike Inez and William DuVall will be in attendance on the night, but fans will at least get to hear the highly anticipated album.
Last month Alice In Chains released the track So Far Under (opens in new tab), with DuVall explaining: "It's about feeling completely up against it – outnumbered, surrounded, facing seemingly unbeatable odds and being really pissed off about it.
"It was inspired by personal circumstances, as well as events in the wider world. But it's not as resigned to defeat as it may seem.
"The lyric is a cold, hard assessment of a difficult situation but the music has a message all its own. There's still room to flip the script.
"Every aspect of writing and recording this song will always be remembered with a lot of joy – from recording the basic tracks and the guitar solo at Studio X in Seattle to doing further overdubs at Nick Raskulinecz's studio in rural Tennessee.
"Everyone in the band and our studio team really stepped up and knocked it out of the park on this one. We're extremely proud of this song and the entire album."
Alice In Chains are also one of the featured artists in this month's edition of Metal Hammer magazine, which is on sale now (opens in new tab).
In the interview, guitarist Cantrell talks about the follow-up to The Devil Put Dinosaurs Here and looks back at being part of the rise of grunge in the early 90s (opens in new tab).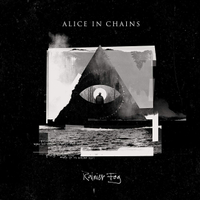 (opens in new tab)
Alice In Chains - Rainier Fog (opens in new tab)
Alice In Chains prepare to release their highly anticipated new album Rainier Fog - their first album in five years. It features the singles So Far Under and The One You Know.