Billy Gibbons - The Big Bad Blues
1. Missin' Yo' Kissin' (Gilly Stillwater)
2. My Baby She Rocks
3. Second Line
4. Standing Around Crying (Muddy Waters)
5. Let the Left Hand Know…
6. Bring It to Jerome (Jerome Green)
7. That's What She Said
8. Mo' Slower Blues
9. Hollywood 151
10. Rollin' and Tumblin' (Muddy Waters)
11. Crackin' Up (Bo Diddley)
Billy Gibbons has released a lyric video for his cover of the Muddy Waters track Standing Around Crying.
It's the latest song taken from the ZZ Top man's upcoming album The Big Bad Blues which is set to arrive on September 21 via Snakefarm Records.
The vocalist and guitarist previously launched Missin' Yo' Kissin' (opens in new tab) and another Muddy Waters cover in the shape of Rollin' And Tumblin'.
Speaking about the follow-up to 2015's Perfectamundo, Gibbons said: "We successfully made our way through those uncharted waters with the Cubano flavour of Perfectamundo and completed the journey.
"The shift back to the blues is a natural. It's something which our followers can enjoy with the satisfaction of experiencing the roots tradition and, at the same time, feeling the richness of stretching the art form."
The album features a total of 11 tracks with Gibbons joined by Hardy on bass, Matt Sorum and Greg Morrow on drums, Mike 'The Drifter' Flanigin on keyboards, while James Harmon contributes harmonica to the record.
It's also been announced that Gibbons will hold a Q&A and signing session at the HMV in Oxford Street in London on September 25.
Doors will open at 5.30pm for the 6pm event, with wristbands given out for entry on a first-come basis. Fans will also be able to buy an HMV-exclusive red vinyl of the album on the day.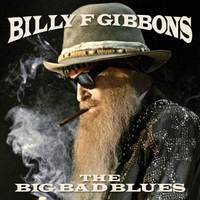 (opens in new tab)
Billy Gibbons - The Big Bad Blues (opens in new tab)
ZZ Top's Billy Gibbons is back with his first solo album since 2015's Perfectamundo, featuring a collection of original tracks plus some classic blues covers including Muddy Waters' Rollin' And Tumblin'.