Soulfly have released a visualiser video for their new single Dead Behind The Eyes.
It's the latest track taken from the band's upcoming album Ritual – and features guest vocals from Lamb Of God frontman Randy Blythe.
The band previously shared the singles Evil Empowered and the title track.
Speaking about Dead Behind The Eyes, Soulfly vocalist and guitarist Max Cavalera tells RockSverige: "It was really cool. Randy is really tight with producer Josh Wilbur and Josh has done all the Lamb Of God stuff.
He was working on the Burn The Priest record, so I just told Josh to give him the tracks and, 'Show them to him, and if there's anything he likes, if he wants to sing on it, it's all cool.'
"I didn't have a song for him, so he showed him everything and what Josh told me was that they were listening to it, and the minute that song came on Randy said, 'That's it! This is the one! I don't want to hear anything else.'
"He's got a real distinctive voice, really unique and that's what I like about guys like him. It's very original and you know it's him."
Cavalera also reveals that he hopes to film a video for the track with Blythe and adds: "We'd have all of us dress up as Hellraiser characters from the movie. I think that would be fucking fantastic."
Soulfly - Ritual
1. Ritual
2. Dead Behind The Eyes (feat. Randy Blythe)
3. The Summoning
4. Evil Empowered
5. Under Rapture (feat. Ross Dolan)
6. Demonized
7. Blood On The Street
8. Bite The Bullet
9. Feedback!
10. Soulfly XI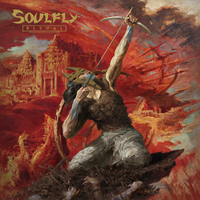 Soulfly - Ritual
Max Cavalera and co's first album since 2015's Archangel features guest appearances from Lamb Of God's Randy Blythe and Immolation's Ross Dolan - and includes the single Evil Empowered.