Def Leppard have recorded a cover version of Depeche Mode's classic track Personal Jesus.
The Sheffield heroes entered the Spotify Studios in New York City and laid their take of the 1990 song down during a special session for the streaming service.
They also re-recored their hit 1987 track Hysteria. Listen to both songs below.
Def Leppard say: "If you've attended a show this year, you may have heard the new cover of Depeche Mode's Personal Jesus. Also recorded is a brand new version of Hysteria. Which track is your favourite?"
Last month, Def Leppard guitarist Phil Collen reported that the band had been woking on three new tracks and added: "Joe's got one, Sav's got one and I've got another one. We've actually started recording them. You can do this stuff all the time. You can do it on your laptop now – you don't have to be in a studio. You can actually get it moving and started already.
"So, yeah, we've actually started the next thing and I love the direction of it. When you do it over a period of time, you can actually get a bit more in it. When you cram it all in, it sometimes gets a little limited."
Def Leppard are currently on tour across North America with Journey and will return to the UK and Ireland for a run of UK and Ireland dates in December, which will see the band revisit the Hysteria album.
Find a full list of dates and how to get tickets on our Def Leppard tour page.
Last month, the band released Volume 1 – the first of four career-spanning box sets. The first collection brings together 1980's On Through The Night, 1981's High 'N' Dry,1983's Pyromania and 1987's Hysteria.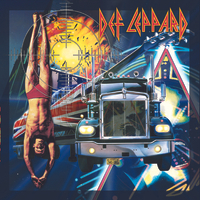 Def Leppard - Volume 1 box set
The first of four career-spanning box sets celebrates Def Leppard albums On Through The Night, High 'N' Dry, Pyromania and Hysteria, along with a wealth of bonus features.