Def Leppard - Volume One
Vinyl Track Listing
Disc 1: On Through The Night
Disc 2: High 'N' Dry
Disc 3: Pyromania
Disc 4: Hysteria
Disc 5: Hysteria
Disc 6: Live At The LA Forum 1983
Disc 7: Rarities Volume 1
Disc 8: The Def Leppard E.P. 7" single
Order from Amazon (opens in new tab)
Many of us were disappointed by Def Leppard's debut album in 1980, On Through The Night, but then blown away as each of the next three proved stronger than the one before. Even now, only a fool would cheapen such gold-plated received wisdom with revisionist thinking. The assessment is underlined by sales figures that started in seven figures (!), doubled for High 'N' Dry and rose to 10m for Pyromania and 25m for Hysteria.
This boxed set is built around those first four albums, so covers the period from the band's formation up to 1987. With just seven studio albums since then and three more volumes to come, it may appear they've shot their bolt a little early by including Hysteria, but it enables them to include anything recorded before the death of Steve Clark.
It's available on vinyl (£125 or less) or CDs (around £55). Audiophiles will be pleased to hear that their fancy cardboard container includes the Ronan McHugh remasters of the albums, plus the original EP (in a reproduction picture sleeve seven-inch in the vinyl box, or a three-song disc with the CD version), the Live At The LA Forum album (the full set from the Pyromania tour, previously available as the bonus CD with the 2009 reissue of Pyromania), and Rarities Vol. 1.
Live At The LA Forum captures the band (average age 22 and a bit) sounding high on life. Beginning with a super-fast version of Rock! Rock! (Till You Drop), the first of six from Pyromania, it hurtles through the best of the first two albums and ends with Brian May joining them on stage for Creedence's Travelin' Band. At 71 minutes it's five shorter than Lizzy's Live And Dangerous, yet every bit as powerful. A wish-you-were-there gem.
The Rarities disc was compiled by Joe Elliott, but it's fair to say he didn't spend weeks on his hands and knees in some dusty vault searching tape boxes for things nobody's heard before. Its 10 tracks come in a "newly commissioned sleeve" that is arguably the most collectable part, and they include first-time-on-CD for the A-side mixes of the Wasted and Hello America singles and the latter's B-side Good Morning Freedom.
Among those previously released as bonus tracks on earlier CD remasters are the remixes of Bringin' On The Heartbreak and its flip-side Me And My Wine. You also get Tear It Down (the original, not the re-recorded version on Adrenalize) which is an absolute cracker. Sobering to think how hot the band's streak was that they were happy to relegate this to a B-side for Hysteria's Women. Similarly I Wanna Be Your Hero (a track on the Hysteria CD single) and Ring Of Fire (Armageddon It's B-side, and more recently on Retro Active). All four of these produced by the band themselves, while Mutt Lange concentrated on those he deemed good enough for Hysteria. The re-recorded Ride Into The Sun (another Hysteria B-side, originally on that debut EP) is better with the Ian Hunter Honky Tonk Messiah intro added for 1993's Retro Active version, but including that would have bent the space-time continuum.
It ends with the tongue-in-cheek cover of Englebert Humperdink's 1966 chart topper Release Me (officially credited to Stumpus Maximus And The Good Ol' Boys), featuring vocals by Steve Clark's guitar tech (and subsequent Leppard tour manager) Malvin Mortimer. He starts off by imagining he's doing a passable impersonation of fellow Welshman Tom Jones's version but, through a series of cruel key changes, ends in danger of hurting himself. Ridiculously, it now sounds funnier than it ever did back in the day.
Heard it all before, then, so some might moan that other than the packaging the only unique selling point is the hardback book written by Classic Rock's Leppard aficionado Paul Elliott (no relation), illustrated with photos by Ross Halfin. Given that the rarities disc was the band's opportunity to reward those who will fork out for anything and everything, Leppard could have tried harder than its 37-minute running time suggests.
But then there is a bigger picture. There are plenty of fans simply not old enough to have bought everything since the first time Geoff Barton flagged up Leppard in Sounds. Moreover, in a career based on quality above quantity, why should they do what Jimmy Page has done with the Led Zeppelin deluxe bonus editions and dilute the strength of the back catalogue with a collection of half-finished tracks and mixes earlier deemed sub-standard? One listen to everything here will prove Def Leppard had absolutely no need to rewrite their early history. God bless their Union Jack shorts.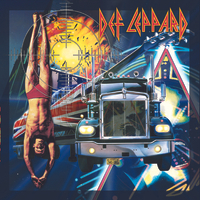 (opens in new tab)
Def Leppard - Volume One
This initial volume of the band's complete recorded output comes in a limited-edition 180-gram heavyweight vinyl box set, featuring Def Leppard's first four studio albums — along with some choice bonus live and studio material — all spread across 8LPs. For the digitally inclined it's also available as a 7CD set.