The first ever official book about Jethro Tull is to be published next year.
The Ballad Of Jethro Tull will be published through Rocket 88 and has been overseen by Ian Anderson, who collaborated with members and former members of the band to complete the book, which will feature memories, personal photos, memorabilia, classic and previously unseen live photography, behind-the-scenes snaps, original press cuttings and album art.
The fully illustrated hard back book will be printed in two editions: The Classic version and a limited edition Signature Edition which will be signed by Anderson and come with bonus content.
Anderson says: "It's been on my mind to find an effective way of telling the Jethro Tull story and as we celebrate – in slight disbelief – our 50th anniversary.
"Now seems as good a time as any to draw on the recollections of the very many musicians who played a part in Jethro Tull. Some guys are sadly no longer with us and others will be hard to reach but this project will seek to provide the definitive Jethro Tull story – as told by Jethro Tull."
To mark the announcement, Anderson has also recorded a video message, which can be watched below.
For further information, visit the official website.
Tull will head back out on the road to celebrate their 50th anniversary in November.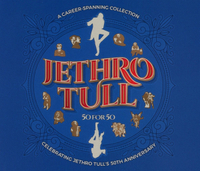 Jethro Tull - 50 For 50
Ian Anderson and Jethro Tull celebrate their 50th anniversary with this specially curated compilation featuring 50 of Tull's finest tracks. Not to be missed!