Disturbed frontman David Draiman has spoken about why he no longer sports his signature double labret talons.
The vocalist has worn the chin jewellery for years, but in recent publicity shots for their upcoming studio album Evolution, Draiman has removed them… and now he's explained why.
He tells German website Deutsche Welle: "They're kind of a pain in the butt, to be honest. It just felt weird walking around like a 45-year-old Hot Topic kid. I just felt it was time."
Hot Topic is a US retail chain which specialises in music-inspired and alternative culture fashion.
Back in August, Draiman called Evolution – the follow-up to 2015's Immortalized – "our Black Album", in reference to Metallica's classic 1991 record.
Asked about those comments, Draiman replies: "It's simply a matter of something that every rock and metal band aspires to – they all want to write that record that takes them to the next level.
"That's what the Black Album did for Metallica and that's what I'm hoping this record does for us – just in the sense that I hope we can have a similar type of stars aligning and fate taking a hand and things really exploding the way we hope it will."
Draiman goes on to chat about the pressure on the band after achieving continued success throughout their career, his job working in a phone call centre and also sees him taking part in an emoji-related quiz.
Evolution will be released this coming Friday (October 19) via Reprise Records, with the band previously releasing the singles A Reason To Fight and Are You Ready.
Last week, Disturbed revealed the names of the European cities they'll visit on their upcoming tour, but stopped short of revealing dates and venues.
Disturbed - Evolution
1. Are You Ready
2. No More
3. A Reason To Fight
4. In Another Time
5. Stronger On Your Own
6. Hold On To Memories
7. Savior of Nothing
8. Watch You Burn
9. The Best Ones Lie
10. Already Gone
Deluxe bonus tracks
11. The Sound of Silence [Live] (Featuring Myles Kennedy)
12. This Venom
13. Are You Ready (Sam de Jong Remix)
14. Uninvited Guest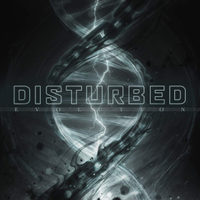 Disturbed - Evolution
Disturbed are back with their new album Evolution - the highly anticipated follow-up to 2015's Immortalized featuring the lead tracks Are You Ready and A Reason To Fight.