Greta Van Fleet have shared a stream of their new song Anthem.
It's the latest material taken from the band's highly anticipated debut album Anthem Of The Peaceful Army, which will arrive on October 19 via EMI.
The rising stars from Michigan previously launched the tracks When The Curtain Falls, Watching Over and Lover, Leaver (Taker, Believer).
Greta Van Fleet say: "The world is only what the world is made of, and here is our Anthem for you."
The band are currently on tour across North America and will travel to Europe for further shows later this month and into November.
Greta Van Fleet's sound has come under fire from some quarters for being too Led Zeppelin-like, but here are eights reasons why it's OK to just relax and enjoy their music.
Greta Van Fleet - Anthem Of The Peaceful Army
1. Age Of Man
2. The Cold Wind
3. When The Curtain Falls
4. Watching Over
5. Lover, Leaver (Taker, Believer)
6. You're The One
7. The New Day
8. Mountain Of the Sun
9. Brave New World
10. Anthem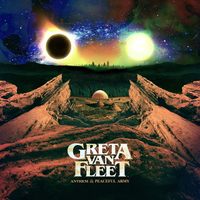 Greta Van Fleet 2018 tour dates
Oct 05: Austin City Limits, TX
Oct 06: San Bernardino Cal Jam, CA
Oct 11: Madison The Sylvee, WI
Oct 26: Paris Elysee Montmarte, France
Oct 27: Brussels Ancienne Belgique, Belgium
Oct 29: Tilburg 013, Netherlands
Oct 30: Hamburg Mehr! Theatre, Germany
Nov 01: Cologne Palladium, Germany
Nov 04: Stockholm Berns Salonger, Sweden
Nov 05: Copenhagen Vega, Denmark
Nov 07: Berlin Columbiahalle, Germany
Nov 09: London O2 Kentish Town Forum, UK
Nov 11: London O2 Kentish Town Forum, UK
Nov 14: Birmingham O2 Academy, UK
Nov 15: Manchester Academy, UK