"When we were in the studio, a drum pattern came to my mind, so I stood up to go to the drum riser to show it to the guys. I tripped over my shoelace and almost fell over the drum kit."
Voivod drummer Michel 'Away' Langevin is talking about what seemed a fairly unimportant moment in the studio that turned out to be vital in bringing the band's 15th album, Synchro Anarchy to life. "It was pretty funny because the pattern I had in mind kept skipping a beat. It triggered an idea in [vocalist] Snake's mind where, say you stop for a second to tie up your shoe and then a car whizzes by and misses you when it would have otherwise hit you if you hadn't stopped to tie your shoelace, your life is saved by a strange coincidence. Snake started writing lyrics and in them he had the words 'synchro' and 'anarchy' and in the way that we put the album together during a pandemic, while trying to make sense of everything, it felt like the perfect title."
2018's The Wake had found Voivod in inspired form and it had fuelled their confidence going into its successor. It won them the Juno Award for best metal album and it, ultimately, proved to the world that the band, who helped sculpt and pioneer progressive metal three decades ago, still had fire in their bellies. Fresh blood had helped stoke those flames, with longstanding members Langevin and Denis 'Snake' Bélanger now joined by Dominique 'Rocky' Laroche on bass and guitarist Daniel 'Chewy' Mongrain on what was only his second full-length effort with the band since joining in 2008. They were all geared up to begin writing its follow-up. Then the pandemic ground their writing sessions to a halt.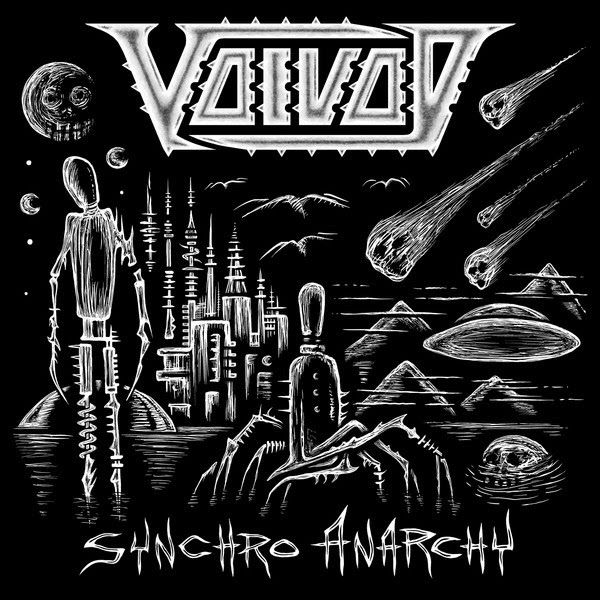 "In early 2020 we started jamming and recording improvisations. Chewy had bits of riffs he'd written during the GWAR tour we did in Europe and Snake came with melodies in his head too. So we had bits of ideas, but then all of a sudden we were shut off from the jam room. It was frustrating," Langevin reveals with that stress audible in his voice. He adds that the band were "forced to sync up online". But in those challenging times, change for the better was to be found, lurking amid a tangle of uncertainty.
"Everything became very surgical for me; I started paying lots more attention to the beats and the riffs. I was trying to create ideas that I'd never done before. At first, I started to work on ideas I had that were in the same time signature or had the same BPM and a few songs were built like that. After a while, though, I started mixing bits
of songs that we had in our bank of unused ideas that had no connection to each other at all, which was something I'd never have done in the jam room.
"Slowly but surely we were able to go back into the studio to start rehearsing again," he continues. "This was a great moment where all our ideas really glued together. That was where we realised that a part could be doubled or cut and so on. The energy of everybody coming together again brought a new element to what we'd created online. We actually ended up speeding up most of the songs we had demoed. Everything got much more powerful. So, I think that mixture of building demos on a computer and finally jamming the thing live in the studio is what made this new album sound different; the whole process actually became a very positive two-part thing."
What followed was a "marathon summer" of putting these songs together with a newly imposed and impending deadline staring them dead in the eye.
"It was super-intense," Langevin reflects with a sigh of retrospective exhaustion. "When we were confronted with a deadline from the label we realised that we still had a lot of work to do to deliver the album on time. It turned out to be a real intense marathon over the summer of writing, fixing stuff and recording as well as playing festivals here in Quebec on the weekends. There was a point where Chewy, who is the main arranger for the band, was running out of ideas, so we all started throwing whatever we had at him. That's when the shoelace incident happened. Writing like that brought everyone's personality into the album more so than ever before, I think. Everybody was helping each other and it became a really collaborative effort."
Synchro Anarchy picks up where The Wake left off. It further develops the modern Voivod template, which tactfully throws back to the band's 80s and 90s peaks while adding freshness to the mix. Across its nine tracks, thrash metal grit and heavy-duty riffs ornamented each track's avant-garde architecture, with Denis 'Snake' Bélanger's thought-provoking lyrics swinging from the ceiling. It sounds like Voivod but modernised; revitalised.
"It was a lot of hard work and not much sleep, really," Langevin extends. "It must have been quite a ride for Chewy because there was there was a lot of work for him."
Mongrain is a lifelong Voivod fan. His passion and creativity for not just technical, neck-breaking guitar work but also complex, thought-provoking song arrangements comes coupled with a real understanding of what Voivod is. Having forged a name for himself in another Quebec-based band – the death metal-pedalling Martyr – he had brief stints in two more death metal acts in Gorguts and Capharnaum before he took the songwriting reins of his favourite band.
It would've been a fairy-tale moment for the now-45-year-old, had he not been taking the place of Denis 'Piggy' D'Amour. Piggy, a founding member of the band and a legendary guitarist, had been responsible for much of the band's most iconic material, so Mongrain had enormous shoes to fill. Yet it's a responsibility he's handled with esteem. His endearment of the band, alongside his own style that offered a fresh perspective without muddying the waters, has helped define their sharp modern edge.
"Chewy is a fan of all the Voivod eras and there are elements of all those in his playing, but with a futuristic twist," Langevin believes. "Our sound is more like fusion metal in a way now, with Snake and I bringing the punk and trashy elements into the fold."
But of the band's "futuristic twist", Langevin feels it has been a sub- conscious change, rather than a ripping-up of the rule book.
"We don't sit down and over-think it," he says. "With Voivod we always try to create music that we enjoy playing live. We were lucky that The Wake was so well received because we went down a prog rock path with that album. It was a good indication that we were following the right road. So with the new album we continued down that path."
For Langevin, meanwhile, the marathon summer wasn't just about nailing the songs.
"When I was finally done with recording my parts I realised I still had to do to the artwork, and the layout, and everything else. I was always drawing ideas while the rest of the band were recording their parts and we were building the album together. I actually ended up having a lot of art for the booklet of the new album, which is great. It was a very creative time for all of us.
"When I hear the album now, I can feel the urgency," the drummer adds. "Having to deliver and play the best we can made the album more raw. We didn't go for interludes and all that other stuff that we've done in the past; it's a single vinyl record and everything is very compact. It feels very 'in the moment'."
Aiding in that mad dash summer was producer Francis Perron of RadicArt Studio, who mixed 2016's Post Society EP and has stayed on since. With this being his third studio release with the band, Perron – who was also tasked with overseeing the lockdown livestreams the band presented last year – has become an integral cog in the contemporary Voivod machine.
Says Langevin: "The studio is in an isolated village outside of Quebec where there's nothing else to do but work on the album. Ever since we went there for Post Society I've always thought it to be the best surroundings and the best way of working. Francis brings a lot into the mix and he works as hard as we do in making it happen, which is why we'll keep going there."
While locked in the studio, the Covid pandemic may have seemed like just a memory, but it lived on in Snake's words.
"With his lyrics, Snake is always very inspired by what's happening around him. I think the pandemic had a big influence on the lyrics, even if he doesn't talk about it directly. This is an album of individual songs, but there's a sense of darkness and isolation connecting all his lyrics."
Indeed, for a band who have always engulfed themselves in dystopian lyrical themes and sci-fi dreaming they now found themselves not just writing about the surreal, but living it too.
"These are dark times and they're reflected in the lyrics; I think you can really feel it." And he's right. From the snarl and spit of Planet Eaters to the blunt force clangour of Quest For Nothing, which marries a sense of frustration with malevolent hopelessness, you feel it like sandpaper on an open wound. They reflect the unease and anxiety that has marked these past two years. These are dark times, but it's in times like these bands like Voivod thrive. It's no surprise to hear, then, that they've plenty more in the pipeline.
"We've been working a lot on the new album, of course, but we've also been working on vinyl reissues of the old catalogue and we also have a documentary on the way," Langevin goes on to reveal. "It's called We Are Connected and it's by [filmmaker] Felipe Belalcazar [Death By Metal, Metal Evolution]; that's going to come out this year. And we are expecting to do a world tour when the album comes out too. So 2022 is going to be a pretty big year for us, and in 2023 we'll have our 40th anniversary, so that will also be a big year with a book release and everything else.
"We always try to be as productive as we can really and that's why last year, instead of sitting in our living rooms doing nothing, we decided to put out live releases and build a new album, even if we had to do it online."
This article originally appeared in issue 127 of Prog Magazine.