The Slash Interviews
The man himself on the making of the solo albums.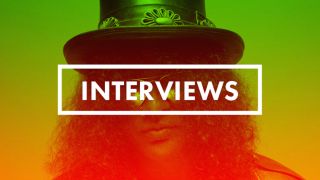 Sign up below to get the latest from Classic Rock, plus exclusive special offers, direct to your inbox!
Scott is the Content Director of Music at Future plc, responsible for the editorial strategy of online and print brands like Louder, Classic Rock, Metal Hammer, Prog, Guitarist, Guitar World, Guitar Player, Total Guitar etc. He was Editor in Chief of Classic Rock magazine for 10 years and Editor of Total Guitar for 4 years and has contributed to The Big Issue, Esquire and more. Scott wrote chapters for two of legendary sleeve designer Storm Thorgerson's books (For The Love Of Vinyl (opens in new tab), 2009, and Gathering Storm (opens in new tab), 2015). He regularly appears on Classic Rock's podcast, The 20 Million Club (opens in new tab), and was the writer/researcher on 2017's Mick Ronson documentary Beside Bowie (opens in new tab).