"There's my snare drum," says Mikko von Hertzen, strapping a thin rail of bells to the side of his boot, holding it in place with what looks like a yard of gaffa tape. His brother, Kie (guitar, vocals), opts for a jumbled ball of small bells to attach to his boot. They walk off with a grin, jingling. Jonne, the most reserved, and youngest of the three, sits happily back in his chair, his bass guitar low on his hips, a low rumble of notes gravitating across the floor of the photography studio in the basement of the Future building in West London where the band are being filmed and photographed.
The studio is surprisingly full, and it quickly becomes apparent why when the three brothers break into an acoustic reading of River (from 2006's Approach album), Mikko supplementing his makeshift snare with a bass drum fashioned from a plastic case, he's playing a guitar too and singing lead, though that could be any of them. As soloists they're beyond accomplished; together they're out of this world. After three runs at River – all note perfect, but at the cameraman's insistence – they cheerily set about rattling off Queen's Don't Stop Me Now, leaving the makeshift audience quietly astonished by their virtuosity, not to mention the fact that they seem able to easily hurdle most of Freddie Mercury's somewhat testing high notes.
Snow has set in over London, and is falling heavily as the band settle into the Future boardroom, a corner office with tall windows looking out over the crystalline sky. While the UK's in thrall to a smattering of the white stuff, the three Finns are less impressed. Kie glances out of the window: "You call this snow? This isn't snow."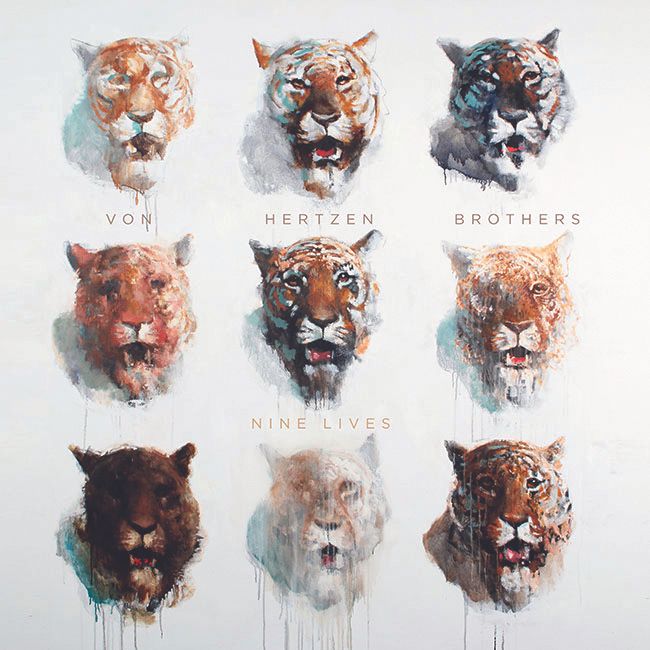 The last time the Von Hertzen Brothers felt the cold was late last year on a short European tour opening for Opeth. Their latest album, Nine Lives, their first where the band had opted to record, engineer and oversee everything themselves, was running late. They'd overshot their self-imposed deadline, and consequently found themselves all bunched up in the back of their tour bus, wrapped up tightly in their sleeping bags, recording the final harmonies for their fifth album.
"It was a trial," says Mikko. "We booked ourselves on tour with Opeth while we were still in the studio, so we were stressed over that. We actually missed the deadline, we couldn't keep it – we got delayed by a month."
"We were actually singing the last backing vocals for the album in the back of a cold bus in the middle of a snowstorm in Sweden," says Kie, looking a little pained by the memory. "It was quite rough and stressful. Everyone had a day off, and we were in the back of this freezing bus trying to get the final vocals done."
"It did work and it was tough, but we changed the way of doing things by recording the whole album ourselves, engineering everything ourselves, editing it all ourselves," adds Mikko. "We didn't go to an expensive studio. We went to our rehearsal space and took more time with it, to have that more relaxed atmosphere, to feel that we weren't in a rush, even though we were." He pauses for a moment, before adding, "That's how you end up singing in a sleeping bag."
You've often publicly complained about the sound of 2008's Love Remains The Same album. Was that a case of the deadline impacting on the final result?
Kie's sigh is audible and exasperated.
"That's a perfect example of the deadline messing with the final results. Still, when I listen to it, if only we'd had another two weeks to mix it, there could have been more finesse, more room for the songs to breathe…" He tails off in what seems like quiet frustration.
"The songs were okay though," asserts Mikko. "I don't think we have any songs where we think: 'that's a shitty song. I don't know why we did it.' Maybe on the first album [Experience] there are a few?"
There aren't, and one listen to Nine Lives and you'll forgive the Von Hertzen Brothers their tardiness. It might be their fifth album, but it's the one that will likely introduce them to a new and more international audience. At home in Finland they're as popular as ice hockey (which makes them very popular indeed), with a slew of gold albums, and even a Finnish Grammy for their second album, 2006's Approach. Nine Lives is, if you'll excuse the gratuitous hyperbole, something else entirely; a grand step up – if perhaps not the cohesive and more streamlined record they planned to make when they started writing it over a year ago.
"Every album you make, you want to rethink or reinvent yourself in some way," says Mikko, "which was the intention. Plus we hear all the time that our songs are too long. It's not that we're trying to be prog or complex, it's just the way it happens. And then if a song is short, we'll sometimes feel like it doesn't fulfil us somehow, that there's not enough dynamics, or the perfectionists in us think we can make it a little better with a little more tinkering. So eventually the album took the shape that isn't that much different to what we've done before, even though we thought that it would be much more different."
Named after the stunning art that adorns the album's cover, painted by acclaimed Finnish artist Samuli Heimonen – a self-confessed fan of the band who has been known to work to their music – Nine Lives is, for all of Mikko's protestations, a musical evolution for the band. (Mikko: "We were thinking: 'Is it too much to name your album the same name as an Aerosmith album?' Not a great Aerosmith album, admittedly, but…"), Shorter, more concise songs outnumber the longer, more drawn out pieces, though all are united by their depth, dynamics and sheer invention. Though, as with all their recordings to date, it's unfettered by anything approaching conventionality in approach or thought. Inspired as a band by Boston as much they are by Black Sabbath, the Von Hertzen Brothers are equally unafraid to give as much credence to German composer Stephan Micus when it comes to musical inspiration as they are their more rock flavoured brethren.
"I was living in India when I was introduced to Stephan's music," explains Mikko, enigmatically. "It was all so wonderfully contemplative. He went to the monastery on Athos Mountain and made an album about it [1994's Athos on ECM]; the journey to the mountain, to the monastery, and it was very reflective, and, in a good way, spooky. So, I was reminded of this, because we went to a monastery to record an a cappella song dedicated to our late grandmother, Katri Willamo."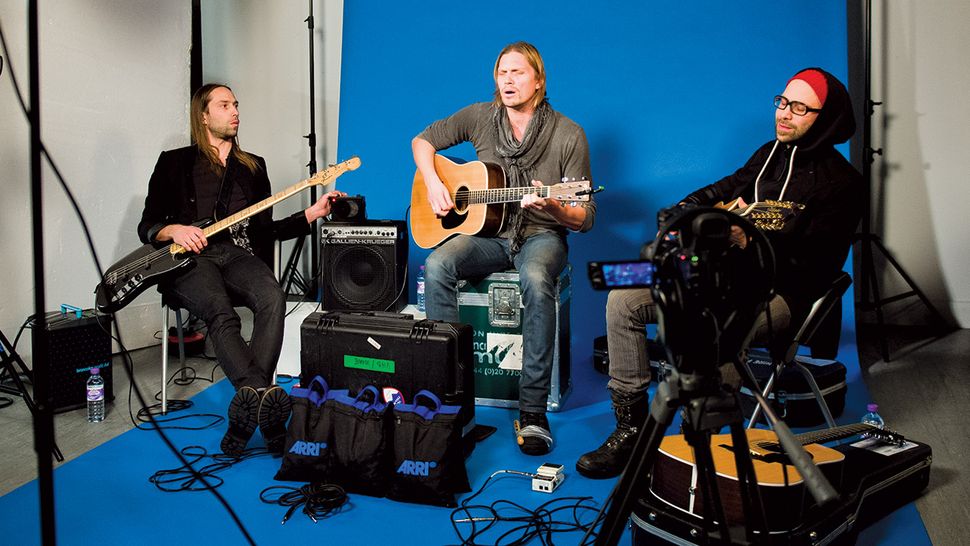 World Without opens with the three brothers intoning a haunting melody in their native tongue, cloistered in the monastery in Valamo in Finland by icons and artefacts that their grandfather had bequeathed the church after his death.
"Our grandparents collected icons and art from Russian Orthodox churches and imported them to Finland," explains Mikko. "So we had a bond to this place, because it now houses something like 400 pieces from their original collection. We got access to this church where no rock band has ever recorded anything before, and it was really special to us, because of the connection we had to the things."
"It was amazing, it was the middle of the night and the full moon was high in the sky. It was very, very special," adds Kie, nodding.
Mikko's in something of a reverie: "We wanted to just capture the space of the church, the sense of the ages – there is something very real to it."
Were you close to grandmother? "We were," says Mikko. "She was a big lover of culture. She went to the opera and classical performances, and she was very into art and music. She never played, but she was very culturally enlightened. She made a big impression on us."
It wasn't just their grandparents who would leave an indelible mark on the boys. Their parents started them early, enrolling them into musical kindergarten before they could barely read or write.
"It's singing and playing with music," says Mikko. "We were very young. All the playing that we did there with the other kids was somehow related to music – the dancing, the games – my enduring memory is of it being really fun."
When they were teenagers, their father would travel abroad for his job with an insurance company, and would always receive a hero's welcome on his return; not least because of the Quality Street toffees and music – Queen, Led Zeppelin, Pink Floyd – he'd bring home with him. Years before that, he also played with an instrumental guitar band much in the mould of The Shadows called The Savages.
"They were good," says Mikko. "It was '63 or '64, and they won the best band of the year competition in Finland. Before then they really didn't have bands in Finland. In the early 60s you'd have a singer and the backing band, but then in '62 or '63 there was a shift, and my father's band was one of the first to actually call themselves a guitar band. It was because of him too that we went to see people like Johnny Winter and Frank Marino when we were young."
"You were 10 and I was 12," recalls Kie, "and we went to see John Mayall with the Bluesbreakers. We went with our dad and our godfather – our uncle. They both used to take us. My first gig was Eric Clapton and then The Shadows came and played when I was about eleven."
"I think that Mayall gig was one of the biggest shows for me," says Mikko, "The one experience I remember vividly. We were at the Tavastia Club in Helsinki, which is our home venue these days. We play there a lot – it's the best club in town. We were really young and there was an age limit, but we were kids and we were having dinner and people were boozing and watching the band, and we were eating French fries and people were like: 'What are these kids doing here?' We were the only kids in there and somehow our father spoke to the manager, who is still the manager, who let us in. And I remember it being so cool. Jonne was so much younger, so he didn't get to go. But even now it's quite defining; that was such a strong experience."
It's been 12 years since the band's debut Experience was released. Its initial recording sessions were done in a hired house called Lonely Planet in India, where Mikko was living at the time. He still keeps an apartment there. That record aside, the band has never moved to record or live away from their beloved home city of Helsinki, let alone Finland. Is that why it's taken them this long to gain real recognition internationally?
"It's the eternal discussion," says Kie. "Do we go somewhere with phones off and computers off and have this two weeks with no interaction with the rest of the world? It could be a very good thing, but our families are there, our rehearsal space, our studio…"
"When Love Remains… came out," says Mikko, "we had that discussion. We were talking to different people in the UK and the US, and they both said that we should relocate the band. We talked about taking our stuff to LA or London and starting from scratch again and trying and make it work from there. But then we just thought: 'Let's make another album, and let's try to find a manger who knows what they're doing.'"
You do appear to be remarkably patient for a band in this fast-paced business.
"As long as there are songs that want to be heard, that need to be written, then we'll keep going," says Kie. "The music always comes out; it's about the process. It's not like we won't be happy until we're playing the Royal Albert Hall…"
Mikko smiles: "Though we'd really, really like to play the Royal Albert Hall."
This article originally appeared in issue 34 of Prog Magazine.