This Black Friday weekend, while the rest of the world was trying to get the best bargain on the latest Bluetooth, noise-cancelling thingumies, or maybe going slightly retro and buying a turntable so they can take part in the vinyl revival, a small but growing group of people were pressing eject on the whole thing.
The world of Airpods and Megabooms is not for them. They're interested in a format that most people had assumed was dead, whose revival was either a gimmick or symbolic of a hipster trend, but not the sign of a format with a future.
And yet, cassette tapes are back. Amazon is selling new cassettes - and they're not cheap either; they are one thing that is not in the Cyber Monday sale - and eBay is full of them.
Cassette sales more than doubled in the UK last year and although their share of the music market is still tiny (less than 1%), there were still 22,000 new cassettes sold in 2017. In July this year, the Official Charts Company revealed that sales for the first half of 2018 were up 90% year-on-year. Cassette Store Day, the tape collector's version of Record Store Day, was last month.
DJ magazine, meanwhile, has already claimed that the cassette revival has become an essential and exciting part of the electronic music scene, allowing smaller artists the chance to do sought-after limited releases: "The tape revival also allowed music that may have never reached a global audience to do so in physical format."
Here are some of the cassettes currently on sale on Amazon, and some bargains to be had on eBay should you be tempted...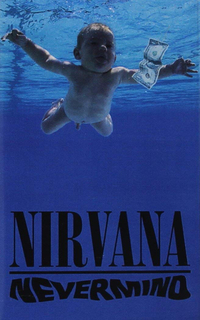 The original album is from 1991 and this cassette is from 2016. The record company got their best guys in to remaster this classic game-changing album. And then some daft fucker stuck it on cassette. Altogether now! "I feel stupid and contagious! Here we are now zzZZsccchhhhhh" etc.
Only £16.16! Right now buying Nevermind on tape is the most expensive way to buy it (vinyl is Less than £12).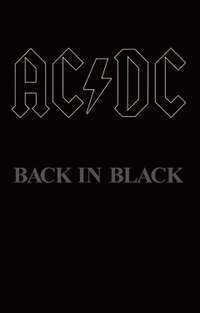 Released on cassette earlier this year by Sony, now you can hear Back In Black as most of us did the first time around: across two sides and blaring out of some dodgy ghetto blaster in a garage.
Only £16.33!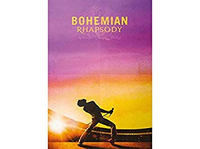 Queen: Bohemian Rhapsody Soundtrack
NEVER BEFORE RELEASED ON CASSETTE because, well, it's never been released before, the soundtrack to the Freddie movie is pitched squarely at Queen completists.
Only £14.99!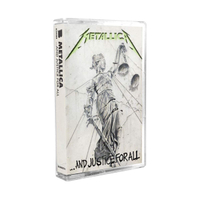 Metallica: …And Justice for All (Remastered) Limited Edition
Possibly the only newly released cassette that could be considered a bargain: it's the same price as the CD, but destined to be a rarity and curio whether or not the cassette revival continues. Get it for less than a tenner and experience that godawful audio quality just as it was first time around. Except this time you know that it's not your stereo's fault you can't hear any bass. (Also worth a look: The $5.98 E.P. - Garage Days Re-Revisited.)
Only £9.99!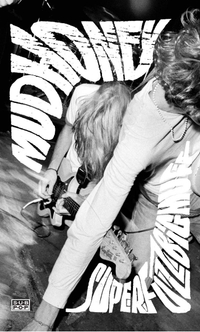 If someone had told you back in 1988 that this under-achieving 6-track EP would be held in such high regard that it would be reissued ON CASSETTE, despite being available to stream digitally for free on Spotify and YouTube, and available on phones as part of a Deezer, Apple Music or Amazon Music Unlimited subscription, you would've been totally confused. Because just about the only bit that would have made sense were the words "on cassette".
Only £12.55!
Here are some great eBay deals on cassettes right now:
You can trust Louder Our experienced team has worked for some of the biggest brands in music. From testing headphones to reviewing albums, our experts aim to create reviews you can trust. Find out more about how we review.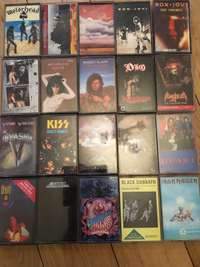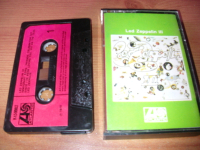 Led Zeppelin III 1970 original: £10.99
You can imagine the meeting: "So the vinyl artwork is amazing. It's kaleidoscopic, with a colour wheel that you can turn like a crop rotation thing. It's colourful, conceptual, totally gorgeous. Shall we do something nice for the cassette version?"
Record company: "No."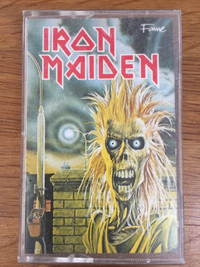 Iron Maiden: Iron Maiden: £4.99
Derek Riggs' artwork still looks cool on this 'Fame' reissue of Maiden's debut (Fame was a budget reissue label that started in 1982, so although the seller says it's 'original', it's definitely post-'82). Doesn't matter. Even if you weren't gonna play it, it'd look cool stuck on a shelf somewhere.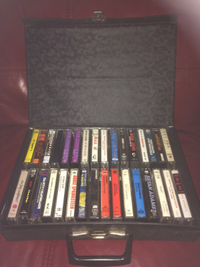 A Briefcase Full Of... Rock: £20
Check this out! 32 cassettes in a case, including Led Zep, Tom Petty, Jethro Tull, Bruce Springsteen and more. It's a got a day to go. I think you could snap this up for £15. Less than 50p a pop for a weird brittle plastic box full of rock history.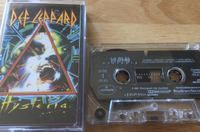 Def Leppard: Hysteria (Chrome tape): £3.00
Yeah, man: chrome. Chrome tape was the HD high-res audio of the cassette world. It technical terms it meant "slightly less hiss". This is how you're supposed to hear a cutting edge production like Hysteria. Put it on a ghetto blaster, carry it on your shoulder and stand outside your ex's house at dawn to remind her of the good times.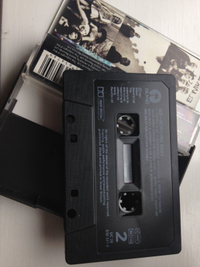 U2: Achtung Baby (black shell): £0.99
We'd never heard the expression 'black shell' before, but - just as record collectors brag about having something on coloured vinyl - it's only fair that tape collectors have something to bang on about. Here's U2's career-rescuing comeback on 'black shell' (said no-one ever).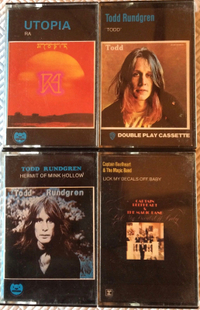 Todd Rundgren Cassette Bundle with Beefheart: £5
This guy doesn't give a shit. It's a Todd Rundgren bundle but he's stuck a Captain Beefheart CD in there just to shake things up a bit. Three cassettes of boring Beatlesque pop and one unlistenable tape full of broken blues that wouldn't sound worse if your player was actually chewing it. Bargain!