Smashing Pumpkins have released a fright-filled video for there latest track Silvery Sometimes (Ghosts).
The song will feature on the band's upcoming album Shiny And Oh So Bright, Vol. 1 / LP: No Past. No Future. No Sun which will arrive on November 16 via Martha's Music/Napalm Records.
The video was directed by Billy Corgan and his longtime collaborator Linda Strawberry, and sees Corgan and his Pumpkins bandmates James Iha, Jimmy Chamberlin and Jeff Schroeder attempt to survive a night in a haunted house as part of a Halloween TV show hosted by Jackie Cherry – played by Sugar Ray's Mark McGrath.
The video features all manner of Halloween-related shenanigans including sticky cobwebs, pumpkins (not smashed), ghostly apparitions, animated mannequins, spooky blood-soaked skulls and other weird and wonderful things… including Corgan dressed up in a rabbit onesie!
Check it out below.
The release comes as the band prepare to play London's Wembley Arena later tonight (October 16) which will be followed by a show in Bologna, Italy, on Thursday evening.
The Pumpkins will then head back across the Atlantic for several more 30th anniversary shows before the end of the year.
Last month, the band checked in to report that they were preparing to unload their vast archive or previously unreleased material.
Shiny And Oh So Bright, Vol. 1 / LP: No Past. No Future. No Sun
1. Knights Of Malta
2. Silvery Sometimes (Ghosts)
3. Travels
4. Solara
5. Alienation
6. Marchin' On
7. With Sympathy
8. Seek And You Shall Destroy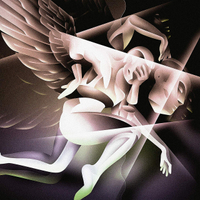 (opens in new tab)