Slash ft Myles Kennedy And The Conspirators were special guests on Jimmy Kimmel Live on Thursday.
The band played two live tracks in front of the enthusiastic crowd: Driving Rain and Mind Your Manners, both of which will feature on their upcoming album Living The Dream.
Speaking previously about Mind Your Manners, Slash said: "I wrote this song on the spot to help the band get up and running once we got back in the studio this past January. It's just a go-for-it type of song. Pretty straightforward rock and fun to play."
Kennedy added: "Mind Your Manners was something I didn't hear until the guys had started jamming together. It's a cool, up-tempo sort of thing and I knew immediately it would have its own place on this record.
"Lyrically, it's about how when things are going well there always tends to be someone who tries to rain on your parade and knock you down. You have to keep people like that in check and not let them get to you."
Watch both performances below.
Slash ft Myles Kennedy And The Conspirators are currently on the road across North America (opens in new tab) and will return to the UK and Europe early next year (opens in new tab).
Slash is also the cover star of the latest issue of Classic Rock magazine, which is on sale now (opens in new tab).
Slash featuring Myles Kennedy & The Conspirators - Living The Dream
1. The Call Of The Wild
2. Serve You Right
3. My Antidote
4. Mind Your Manners
5. Lost Inside The Girl
6. Read Between The Lines
7. Slow Grind
8. The One You Loved Is Gone
9. Driving Rain
10. Sugar Cane
11. The Great Pretender
12. Boulevard Of Broken Hearts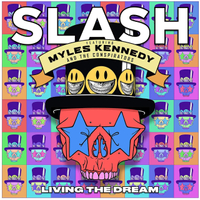 (opens in new tab)