Bad Wolves performed at the Velvet Underground in Toronto this week for a special acoustic performance.
The set, which was run in conjunction with radio station 94.9 The Rock Toronto, saw vocalist Tommy Vext and guitarist Doc Coyle play several songs
Along with Remember When and Hear Me Now from their debut album Disobey, they also covered Deftones' Change (In The House Of Flies) and an alternative take on their hit cover of The Cranberries' classic Zombie.
Watch the videos below.
Cranberries singer Dolores O'Riordan was due to lend her vocals to the cover at a studio session in London on the afternoon of January 15, but she died that morning at the age of 46.
The band initially shelved plans to release Zombie, but later decided to launch the single, with all profits going towards O'Riordan's three children.
Vext recently told Metal Hammer: "It was the only right thing to do; we're not trying to capitalise on the situation. We had a deep, abiding respect for this woman, this band and their body of work and we were honoured that she gave us her stamp of approval.
"It's still resonating with people who heard the original and with people who've never heard it before. A great song is a great song and a great song is timeless."
Bad Wolves are about to embark on a North American tour, which includes dates with Five Finger Death Punch and from Ashes To New.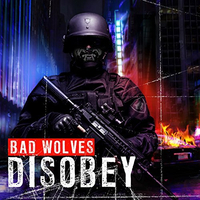 Bad Wolves - Disobey
Bad Wolves released their debut album Disobey in May 2018. Among the 13 tracks is the band's cover of Cranberries' classic Zombie - a tribute to late Cranberries singer Dolores O'Riordan.