Metal Allegiance: Volume II Power Drunk Majesty
1. The Accuser (ft Trevor Strnad)
2. Bound By Silence (ft John Bush)
3. Mother Of Sin (ft Bobby Blitz)
4. Terminal Illusion (ft Mark Tornillo)
5. King With A Paper Crown (ft Johan Hegg)
6. Voodoo Of The Godsend (ft Max Cavalera)
7. Liars & Thieves (ft Troy Sanders)
8. Impulse Control (ft Mark Osegueda)
9. Power Drunk Majesty (Part I) (ft Mark Osegueda)
10. Power Drunk Majesty (Part II) (ft Floor Jansen)
Supergroup Metal Allegiance have announced their return with a new single and details about theIR second studio album.
The metal collective is the brainchild of Mark Menghi, who originally brought together Megadeth's David Ellefson, Testament's Alex Skolnick and Mike Portnoy for the project in 2011.
Since then, a diverse group of musicians have played in the band including Scott Ian, Joey Belladonna, Charlie Benante, Phil Anselmo, Rex Brown, Kerry King, Dave Lombardo and Chuck Billy.
They released their self-titled debut album in 2015 – and now they're back with a new-look lineup for their second album Volume II: Power Drunk Majesty, which will arrive on September 7 via Nuclear Blast Entertainment.
The album features contributions from artists including Soulfly's Max Cavalera, Nightwish's Floor Jansen, Mastodon's Troy Sanders, The Black Dahlia Murder's Trevor Strnad, Armored Saint's John Bush, Accept's Mark Tornillo, Amon Amarth's Johan Hegg and Death Angel's Mark Oseguesda.
Today, the band have also released a video for the track Mother Of Sin with Overkill's Bobby 'Blitz' Ellsworth, which can be watched below.
Volume II: Power Drunk Majesty was produced by Mark Menghi and Alex Skolnick, while Mark Lewis of MRL Studios handled the mixing and mastering.
Metal Allegiance will play New York's Gramercy Theatre on September 6. Taking to the stage on the night will be Ellefson, Skolnick, Menghi, Portnoy, Osegueda, Bush, Tornillo, Strnad, Ellsworth and Andreas Kisser.
Meanwhile, Metal Allegiance have teamed up with Barrage Brewing Company for a double IPA named after the new album's lead single. Mother Of Sin will launch on July 27.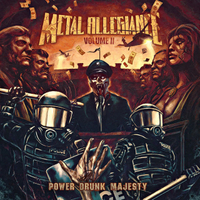 (opens in new tab)
Metal Allegiance: Volume II Power Drunk Majesty (opens in new tab)
The metal collective return with their second studio album and follow-up to their 2015 debut. It will feature artists including Max Cavalera, Floor Jansen, Troy Sanders and John Bush.