Izzy Stradlin has spoken about why he's not part of the band's Not In This Lifetime tour.
Former Guns N' Roses manager Alan Niven claimed in February that the guitarist flew out for a soundcheck with his old bandmates Axl Rose, Slash and Duff McKagan in 2017, but decided to walk away.
Stradlin has now spoken to The Wall Street Journal and explained his side of the story.
He says (via Rolling Stone): "The current GNR tour has been a great success for the guys. My non-participation was simply not being able to reach a happy middle ground through the negotiation process. That's life, sometimes things don't work out."
Stradlin is the only original member of the band not to play with the reunited lineup. Drummer Steven Adler played two shows in 2016, but reported in February last year that a back injury sidelined him from further appearances.
Stradlin can be seen in the video for Appetite For Destruction classic It's So Easy which was recently released. It was filmed at the Cathouse in Los Angeles in 1989 but had never previously been made public.
The live promo will appear on the upcoming Appetite For Destruction deluxe edition which is out on June 29 via UMC/Polydor.
It'll launch on various formats including CD, 2CD deluxe edition, 2LP 180g vinyl, a super deluxe edition CD box set and a massive Locked N' Loaded vinyl box set.
Guns N' Roses will return to Europe this summer for a run of shows including a headline set at the UK's Download festival.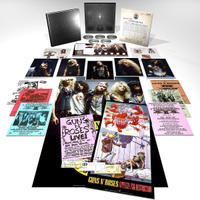 Guns N' Roses 2018 European tour dates
Jun 03: Berlin Olympiastadion, Germany
Jun 06: Odense Dyrskueplausen, Denmark
Jun 09: Donington Download Festival, UK
Jun 12: Gelsenkirchen Veltins-Arena, Germany
Jun 18: Paris Download Festival, France
Jun 25: Mannheim Maimarktgelane, Germany
Jun 26: Bordeaux Matmut Stadium, France
Jun 29: Madrid Download Festival, Spain
Jul 05: Nijmegen Goffertpark, Netherlands
Jul 07: Leipzig Festwiese, Germany
Jul 09: Chorzoq Stadion Slaski, Poland
Jul 13: Moscow Spartak Otkritie, Russia
Jul 16: Tallinn Song Festival Grounds, Estonia
Jul 19: Oslo Valle Hovin, Norway
Jul 21: Gothenburg Ullevi Stadium, Sweden