High On Fire have announced that they'll release a new studio album later this year.
The follow-up to 2015's Luminiferous is titled Electric Messiah and it'll arrive on October 5 via eOne Music.
And to mark the announcement, the Oakland outfit have released a stream of the title track – which vocalist and guitarist Matt Pike reveals is a tribute to late Motorhead icon Lemmy.
He says: "I had a dream about Lemmy. When Lemmy was still alive, I always got compared to him, so I had this dream where he got pissed at me.
"He gave me a bunch of shit, basically, and was hazing me. Not that he didn't approve of me, but like I was being hazed. The song is me telling the world that I could never fill Lemmy's shoes because Lemmy's Lemmy.
"I wanted to pay homage to him in a great way. And it turned out to be such a good title that the guys said we should call the album Electric Messiah."
High On Fire once again teamed up with producer Kurt Ballou for the album, with Pike reporting that he has "a knack" for getting the most from the band.
Pike adds: "We all work really well with him. Even if we have differences about how we want to record something, he works with us and understands what we do. We've been sticking with him because we haven't made a bad record with him yet."
Pike, bassist Jeff Matz and drummer Des Kensel will be on tour with Enslaved this October in the UK.
High On Fire - Electric Messiah
1. Spewn From The Earth
2. Steps Of The Ziggurat/House Of Enlil
3. Electric Messiah
4. Sanctioned Annihilation
5. The Pallid Mask
6. God Of The Godless
7. Freebooter
8. The Witch And The Christ
9. Drowning Dog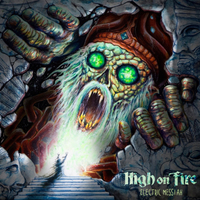 High On Fire - Electric Messiah
High On Fire return with their first studio album since 2015's Luminiferous, with the album title a tribute to late Motorhead icon Lemmy.