The website Super Deluxe Edition is reporting that Kate Bush has removed the vocal contributions from disgraced TV presenter Rolf Harris from the upcoming Aerial reissue.
Harris was convicted in 2014 for 12 indecent assaults relating to four girls between 1968 and 1986 and subsequently had one of the convictions dropped.
He appeared on the second side of 2005's Aerial called A Sky Of Honey on the songs The Painter's Link and An Architect's Dream, but Super Deluxe Edition say that for the upcoming reissue, his spoken word and singing parts have been removed.
The website reports that Harris' contributions have been "replaced by what sounds very much like Kate's son Bertie (Albert McIntosh)" which means the album has been remixed and not just remastered.
We'll find out for sure when the remaster arrives on November 30.
All 10 of Bush's studio albums are to be reissued, with the first set arriving on November 16.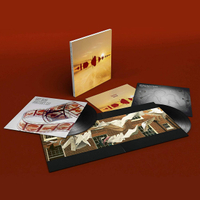 Kate Bush - Remastered In Vinyl
All 10 of Kate Bush's studio albums are to be released in four separate box sets in November. The collection will also contain rare tracks and covers.