Halestorm - Vicious
1. Black Vultures
2. Skulls
3. Uncomfortable
4. Buzz
5. Do Not Disturb
6. Conflicted
7. Killing Ourselves To Live
8. Heart Of Novocaine
9. Painkiller
10. White Dress
11. Vicious
12. The Silence
Halestorm have announced their return with a video for their blistering new single Uncomfortable.
The track will feature on Lzzy Hale, Arejay Hale, Joe Hottinger and Josh Smith's upcoming fourth studio album Vicious, which will launch on July 27.
Vicious was recorded at Nashville's Tennessee's Rock Falcon studio with producer Nick Raskulinecz, who's previously worked with artists including Rush, Foo Fighters and Alice In Chains.
Speaking last year about the follow-up to 2015's Into The Wild Life, vocalist and guitarist Lzzy Hale told radio station Razor 94.7: "Everybody's firing on all cylinders. It feels like we're back in our parents' basement trying to hash it out.
"There's four sides to Halestorm – it's not just about me being the singer and whoever playing in the background.
"I think this is going to be the first record where you can really hear what puts Halestorm together. We're all doing things that we've always been able to show during our live show, but now we're finally capturing it.
"I feel like this is going to be our most rock record to date, even more so than the first and second record. Nick is bringing that out of us. There's teeth to it."
Halestorm will head out on the road in support of Vicious later this year, with dates planned throughout September and October.
Vicious is now available for pre-order. Find details below.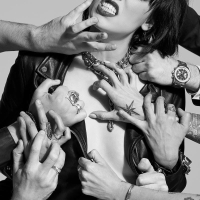 Halestorm - Vicious
Halestorm return with their highly-anticipated follow-up to 2015's Into The Wild Life, with frontwoman Lzzy Hale describing it as "our most rock record to date."