Machine Head are currently on the road across North America on the Freaks & Zeroes tour – their last-ever live shows with their current lineup.
Phil Demmel and Dave McClain will quit the band following the final show at Catalyst in Santa Cruz tomorrow night (November 24), but the group have checked in to report on the "complete insanity" of their show in San Diego this week, which saw a couple ejected from the city's House Of Blues venue for having sex… in the front row.
Machine Head say: "San Diego! Freakin' shit! When a guy and gal get ejected for having sex during Davidian – in the front row no less – you know it's gonna be complete insanity. No joke!
"What a welcome back you gave us – we are blown away. After an 11-year break from each other, you are officially 'un-fired'. Hands down the best show we have ever played in your amazing city and one of the wildest and rowdiest of the entire tour.
"Thank you all so much for an unforgettable night of raging!"
Following his decision to quit the band, guitarist Demmel issued a statement to say that it was "simply time for me to step away and do something else musically" after 15 years in Machine Head.
The band will play Anaheim's House Of Blues tonight and bring the curtain down in what is sure to be an unforgettable show in Santa Cruz on Saturday evening.
Here's the setlist from the landmark tour.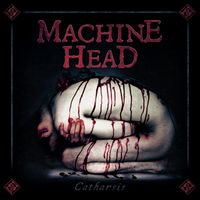 Machine Head: Catharsis
Machine Head's follow-up to 2014's Bloodstone & Diamonds features an array of explosive tracks including Volatile, Kaleidoscope and Beyond The Pale.