Monuments have released a stream of their new single A.W.O.L.
It's the first material taken from the UK outfit's upcoming album Phronesis, which will arrive on October 5 via Century Media Records.
Speaking about the follow-up to 2014's The Amanuensis, the band said: "The word 'phronesis' was a big part of society and philosophy in ancient Greece. Phronesis is wisdom, but a really specific type of wisdom to do with oneself.
"Wisdom on your practical actions, good judgement, being excellent in character, practical wisdom. Learning what to do and what not to do based on experience, being mindful of everything around you. Something that, at times, all of us can be pretty terrible at."
Monuments will premiere material from Phronesis at Cologne's Euroblast festival which takes place between September 29 - October 1, while details of a European tour in support of the new album will be announced in due course.
Monuments - Phronesis
1. A.W.O.L.
2. Hollow King
3. Vanta
4. Mirror Image
5. Ivory
6. Stygian Blue
7. Leviathan
8. Celeste
9. Jukai
10. The Watch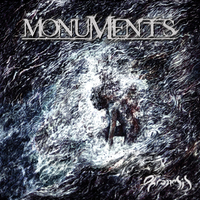 (opens in new tab)
Monuments - Phronesis (opens in new tab)
Phronesis is the follow-up to Monuments 2014 album The Amanuensis and features the lead single A.W.O.L. The UK outfit will tour in support of the record across Europe later this year.