Alice In Chains have announced that they'll play a special set in their home town of Seattle next week.
They're gearing up to release their highly anticipated new studio album Rainier Fog on August 24 via BMG… and to mark the launch, they'll play an acoustic set 500ft above the ground on the glass floor of the city's iconic Space Needle on August 21.
They'll be the first band ever to play 'The Loupe' – which is the world's first and only revolving glass floor. It's powered by 12 motors and offers 360-degree views over Seattle and was recently renovated at a cost of $100 million.
The performance will later be broadcast on August 31 via SiriusXM.
Alice In Chains guitarist Jerry Cantrell says: "I've visited the Space Needle many times in my life and it's going to be a real honour and a total trip for us to play there.
"We're so proud of this album and to be able to celebrate its release with a performance at one of our town's most iconic landmarks is really special.
"It sorta reminds me of the time we did the Again video, but instead of being 6ft in the air rocking out on a glass floor, we'll be 50 stories high… slight difference."
The night before, baseball's Seattle Mariners will hold an Alice In Chains night at Safeco Field (opens in new tab), with fans who have purchased special tickets receiving a copy of Rainier Fog before its official release and an Alice In Chains t-shirt.
Alice In Chains - Rainier Fog
1. The One You Know
2. Rainier Fog
3. Red Giant
4. Fly
5. Drone
6. Deaf Ears Blind Eyes
7. Maybe
8. So Far Under
9. Never Fade
10. All I Am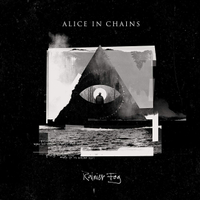 (opens in new tab)
Alice In Chains - Rainier Fog (opens in new tab)
Alice In Chains prepare to release their highly anticipated new album Rainier Fog - their first album in five years. It features the singles So Far Under and The One You Know.