New York in the late 70s. Crime was on the rise. The city faced bankruptcy, unemployment was high and a serial killer calling himself the Son of Sam roamed the streets. In July '77, a blackout resulted in widespread looting and rioting.
It was the end of the hard rock 70s. In New York's clubs and dive bars, new scenes were emerging that would transform music across the world: disco, punk rock and rap.
And out of the chaos emerged a band that could do it all. That was punk AND disco, new wave AND rap, the best and bravest band of the 70s and 80s: Blondie.
Formed in 1974, Blondie were the biggest band to emerge from the CBGB punk scene that gives us the Ramones, the Patti Smith Group, Talking Heads and Television.
An explosive rock'n'roll band, Blondie looked like a street gang led by a movie star. They could draw on classic rock'n'roll, write dancefloor-filling anthems, or top the charts with an obscure reggae song.
They crossed borders and broke gender barriers, appealing to boys and girls on both sides of the Atlantic and all over the world.
They could be camp and they could be cutthroat, with lyrics as witty as Dorothy Parker and choruses sharp as a switchblade.
Blondie could do anything.
To date, they're the only American band to have UK number ones in the 1970s, 1980s and 1990s. A inspiration from everyone from No Doubt to Madonna, Lady Gaga to Garbage, Blondie promise to bring some light into our lives when they tour the UK next winter (with Garbage as back-up).
Like the grimy New York they emerged from, hard-times are here again. And Blondie have the cure. Let's party like it's 1979.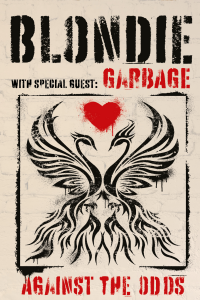 The Against The Odds tour, with Blondie and Special guests Garbage, will commence in Liverpool on November 6, 2021 and run through to November 21, with a closing date at the First Direct Arena in Leeds. For full list of dates and tickets, visit the Blondie website.