Frayed and ragged like well-worn sneakers, the bubblegum blitz of New York's Ramones was as simple and blunt as a mallet. As with Motörhead and AC/DC, casual listeners will argue that if you've heard one Ramones album you've heard them all. Then again, if it ain't broke, don't turn into Metallica.
Born in 1974 at New York's legendary CBGB dive, the musically unschooled and outwardly unwashed Ramones unwittingly scribbled the book of 1-2-3-4, do-it-yourself punk rock. Along the way they became slouched heroes to future generations of speed freaks, grunge geeks and pawn-shop guitar slashers with neither the dexterity nor the inclination to mimic Led Zeppelin or Eric Clapton.
Nicking their fictional surname from either Paul McCartney's one-time pseudonym (Paul Ramone) or producer Phil Ramone (depending on who you ask), the founding fab four 'brothers' were singer Joey (aka Jeffrey Hyman), guitarist Johnny (John Cummings), bassist Dee Dee (Douglas Colvin) and drummer Tommy (Tommy Erdelyi).
The Ramones managed only one gold album (1988's double-vinyl 'hits' compilation Mania), but spent nearly 30 years inciting pogo pits and forging the loud-and-fast blueprint that would inspire everyone from the Sex Pistols to Guns N' Roses. And while Ramones concert tours stirred mania overseas, they barely registered a blip on their US homeland's radar.
Praise was hardly faint, however, as no less a bruiser than Lemmy himself wrote a namesake tribute to the Ramones for Motörhead's 1916 album. On the more profitable and polite side of rock's velvet rope, U2's Bono and Pearl Jam's Eddie Vedder both continue to be outspoken in their utmost respect for the black-leather boppers.
In 2002 the underdogs were finally thrown a bone when the Ramones were inducted into the Rock And Roll Hall of Fame. Sadly, 49-year-old Joey was denied his due, having died a year earlier in the grip of lymphoma.
In the singer's absence, Dee Dee gave a comedic induction speech, and was smacked dead himself just two months later when his life-long drug addiction proved more fatal than his ill-advised 1989 foray into rap music. In 2004 Johnny joined his doomed brothers thanks to prostate cancer. And in 2014 Tommy succumbed to cancer.
Today the surviving Ramones, including drummer Marky (Marc Bell), bassist CJ (Christopher Ward) and later drummer Richie (Richie Reinhardt), can enjoy their legacy of the good, the bad and the ugly.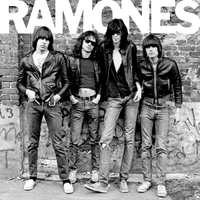 From Roberta Bayley's grainy black-and-white cover photo to the four days recording time it took, the Ramones' shoestring-budget ($6,400) debut was born in a blur and delivered 14 songs in less than 29 minutes. Introduced to a world that at the time was spaced out on the likes of Moody Blues and Styx, the Ramones bashed out such dizzying ditties as Now I Wanna Sniff Some Glue, Beat On The Brat, Blitzkrieg Bop and the hustler anthem 53rd & 3rd.
Alienation, boredom and cartoon characters served as the group's primary inspiration, while contemporaries like Peter Frampton banked on boyish good looks and sun-kissed romance to keep the panties flying.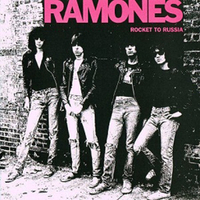 The Ramones' third album, Rocket To Russia hinted ever so slightly at the band's underlying bubblegum pop sensibilities. The shoulda-been-a-smash song Rockaway Beach opens with the ingeniously juvenile lyric 'Chewing out a rhythm on my bubblegum/The sun is out and I want some'. Upbeat and snappy enough to turn the Beach Boys green with envy, the summer-vibed Rockaway Beach was released in the winter and quickly sank.
Other memorable tracks included a blabbermouth cover of The Trashmen's Surfin' Bird, and the downtrodden, broken-home misery of We're A Happy Family – sarcasm never sounded so fun.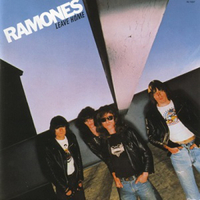 Leave Home, the Ramones' second album, was recorded a scant six months after their debut, and continued to tread the same lyrical turf of mental illness (Gimme Gimme Shock Treatment), self-loathing (Pinhead), soured courtships (Glad to See You Go) and consuming frustration (Swallow My Pride).
The real eyebrow-raiser, however, was Carbona Not Glue, which celebrated the joys of huffing a trademarked cleaning product in order to get high. The track was pulled from the album to avoid litigation, and was replaced in the US by Sheena Is A Punk Rocker, and in the UK by Babysitter. Pressings of the original, unaltered album are considered collectable.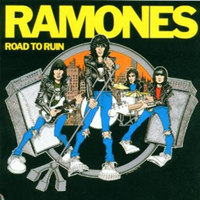 Introducing former Dust and Voidoids drummer Marc Bell (Marky Ramone, who was later booted out in 1984 for hitting the bottle as hard as the drums, then reinstated clean and sober in 1988), Road To Ruin marked a stylistic shift for the Ramones. Acoustic guitars and sparse solos (rumoured to be played by session musicians) were introduced, with the most obvious departures being the country-&-western-flavoured Don't Come Close, and the fluttering strain of Questioningly.
Other memorable tracks on the album are I Wanna Be Sedated, the brilliantly simple anti-boredom anthem I Just Wanna Have Something To Do, and a cover of The Searchers' 60s classic Needles And Pins.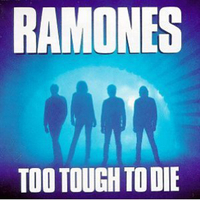 A slice of social commentary in the age of nuclear threat and bloated consumerism, Too Tough to Die was defiant in name, cover photo and subject matter. Planet Earth 1988, Humankind and I'm Not Afraid Of Life address social ills beyond the usual neighbourhood street hassles.
A sheen of residual new wave creeps in thanks to assists from Talking Heads keyboard player Jerry Harrison (Chasing The Night) and Eurythmic Dave Stewart with Tom Petty sidekick Benmont Tench on the ultra-catchy Howling At The Moon (Sha-La-La). Dee Dee's tongue-twisting Wart Hog and Endless Vacation stack the deck, as does Mama's Boy.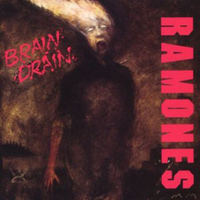 A sleeper in the Ramones catalogue, Brain Drain is perhaps the most consistent album of the band's second decade thanks to some stellar songwriting by the departing Dee Dee. I Believe in Miracles, Zero Zero UFO, Don't Bust My Chops, Punishment Fits The Crime and the Stephen King movie soundtrack theme Pet Sematary all carry Dee Dee's stamp.
Dee Dee would later resurface with the best songwriting credits on 1992's Mondo Bizarro album, including Poison Heart, Strength To Endure and the characteristically defiant Main Man (the latter two sung by his replacement, CJ Ramone). A Bizarro/Brain Drain combo would have rated essential.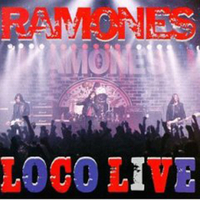 While there are all manner of suitable Ramones primers, including various live albums and best-of compilations, it's the ferocious raw power of Loco Live that captures the band doing what it does best.
Recorded live in Barcelona, Spain, with bassist CJ taking over departed Dee Dee's shouted '1-2-3-4' count-offs, this is a 32-track greatest hits stormer that barely comes up for air. Moderately priced compared to some of the band's more comprehensive documents, it includes a 'hidden' live version of Carbona Not Glue, and thankfully stops short of adding such toss-offs as Spider-Man and The Crusher, which turn up on later live recordings.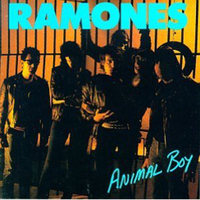 With a return to a more savage sound, Animal Boy reminded the emerging speed metal bands that the Ramones were the first to inflict whiplash. The title track, Eat That Rat and the Sid Vicious & Nancy Spungen send-off Love Kills are full-tilt, sonic speedballs. Also of note is Somebody Put Something In My Drink, which was written by short-term drummer Richie Ramone and quickly became a staple of the band's concerts.
Taking a rare political jab, Dee Dee and Joey snub Ronald Reagan's visit to Germany with the ever-clever My Brain Is Hanging Upside Down (Bonzo Goes To Bitburg). With hindsight, it's likely that Johnny was not amused.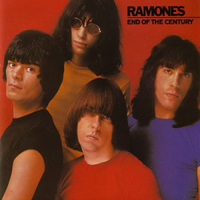 End Of The Century (Sire, 1980)
Produced by legendary (ahem) hit maker Phil 'Wall Of Sound' Spector, End Of The Century was the Ramones' misfired shot at squeaky-clean stardom. Catering to Joey's inner doo-wop, the album (including a not so coincidental cover of The Ronettes' Baby, I Love You – produced by Spector, lead vocals by his missus-to-be) and its spit-shined cover photo were designed to transform the Ramones into cuddly pop pups.
Although it received mixed reviews from puzzled fans, End Of The Century includes such Ramones staples as Do You Remember Rock 'N' Roll Radio?, the immortal Rock 'N' Roll High School and the desperate junkie gem Chinese Rocks.
...and one to avoid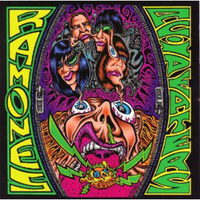 Acid Eaters (Radioactive, 1994)
Having bowed to their Motown and greaser rock influences with various covers throughout their back catalogue, the Ramones go off the deep end with this flashback collection of psychedelic hippie anthems. The party welcomes Pete Townshend lending backing vocals to a cover of The Who's Substitute, and also includes Psychedelic Furs keyboardist Joe McGinty, Sebastian Bach and porn actress Traci Lords (?!).
Bob Dylan, the Amboy Dukes, the Rolling Stones and Jefferson Airplane are among others who get the Ramones treatment. The tracks may have worked as bonus covers on albums of original material, but as a long player Acid Eaters is hard to swallow.